Mixtrack Just Got Better : Introducing Platinum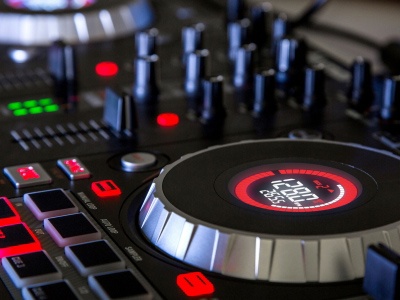 The best-selling entry-level digital DJ controller series gave birth to its newest edition; Numark Mixtrack Platinum. Oh boy, you're gonna love it !
Numark always amazes me by how they improve their controllers while keeping them with very reasonable price tags. Mixtrack Platinum is the latest proof of it. It carries all the features from Mixtrack Pro 3 and adds more killer functions which bring it closer to pro DJ'ing level.
Jog Wheel Displays
The most significant one is the 1.75 inch high-resolution LCD display in the center of each jog wheel. We use to see this feature on some high-end Pioneer controllers like DDJ-SZ, but in much simpler format.
Mixtrack Platinum offers all the essential info on these displays like BPM, needle drop, time, key lock and which deck you're on. Long story short, they squeezed whatever you need to see right in the center of jog wheel. In my opinion, this would make your life way easier when DJ'ing. No distraction of laptop screen and more focus.
By the way, the 5-inch metal jog wheel platters – identical with Numark NV in terms of size – are still stunning with Numark's exclusive touch-capacitance response technology.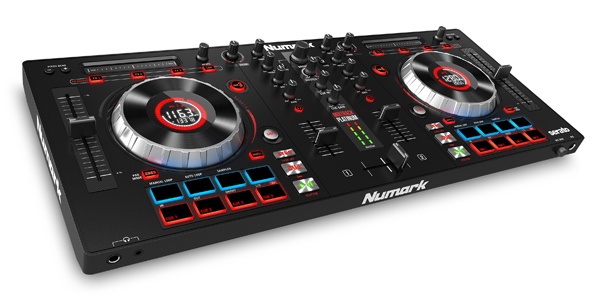 4-Deck Control With Serato DJ Intro
Pioneer DDJ-SB2 did it, now it's Numark's turn. Combined with Serato's DJ Intro software, Mixtrack Platinum enables hardware control of 4 decks simultaneously. Dedicated buttons are placed right next to each jog wheel. This is becoming a standard feature already for major players in the market.
Speaking of Serato DJ Intro; users can also use Serato DJ 1.7.5 and up with Mixtrack Platinum if they already own the software or Intro version can be upgraded with additional purchase. Besides the included software, this DJ control device can be mapped for most other software programs as being a MIDI controller.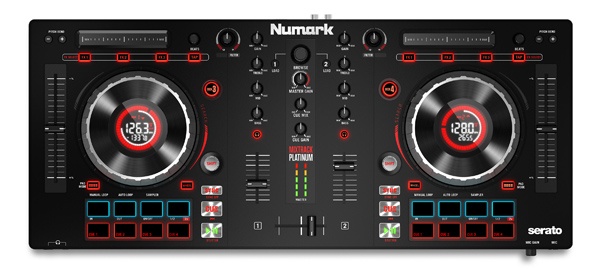 Gain Control For Each Channel
A controller missing channel gain is definitely not for me ! Mixtrack Platinum thankfully has it. Individual gain knobs take place in the mixer section of Mixtrack Platinum. As I stated in earlier posts, being able to adjust or trim the gain while mixing is a must for DJ'ing.
These are the 3 major additions to Mixtrack Platinum compared to Mixtrack Pro 3. Good enough for me ! If Numark adds more audio output to the Mixtrack controllers in the near future, then you won't need anything else to perform professionally in the booth.

What else does Platinum offer ? Let's take a look. 24-bit audio interface, touch strips for FX control and track search, 16 multi-function performance pads, 100 mm. pitch sliders (full size), full versions of Prime Loops and Toolroom packs plus light weight / portability. It is made of high impact polymer composite which is extremely durable.
Numark Mixtrack Platinum will be on shelves soon with a price tag of $299. You can visit the official product page for more information.