And Rekordbox DJ; A Fully Featured DJ Performance Software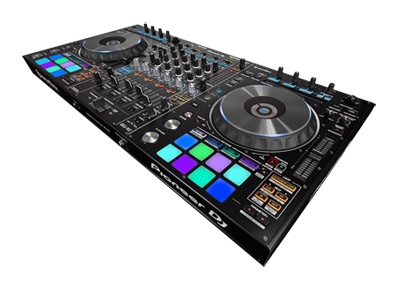 Pioneer DJ is coming up fast as the great BPM Show is on this weekend. They announced new HDJ-700 headphones few days ago and now they are announcing two new digital DJ controllers with their native Rekordbox DJ performance software.
I don't know which one to start with. Let's take a look at the controllers first.
DDJ-RZ and DDJ-RX. Both high-end expensive controllers and both running on the company's own software. We know Rekordbox as a music organization tool for Pioneer's players and controllers, but now it turns into a complete DJ performance software.
In generally speaking, these new models are the versions of DDJ-SX and DDJ-SZ with nativity feature to the software. Most functions and features are the same with those models.
What are these features ? Let's take a look.
Pioneer DDJ-RX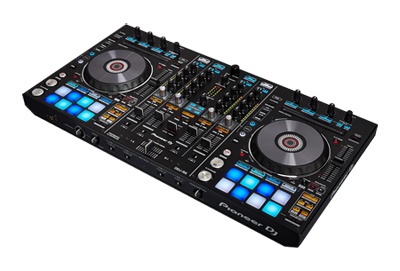 A DC powered, 4-channel controller. It comes with 16 large back-lit rubber performance pads to trigger quantized hot cues, slicer and pad FX.
Jog wheels are inherited from the CDJ series with illuminated markers and great precision. They are optimized for a perfect scratch response.
Sound color FX, beat FX, slip mode, beat jump functions, needle search strips and ultra high quality audio circuits are some of the great features of Pioneer DDJ-RX.
It is 12.8 lbs (5.8 Kg), so not really light.This controller has 2 CD, 2 Phono/Line and 2 MIC inputs, also 2 Master, 2 Headphone and 1 Booth outputs. Audio connections are more than satisfying.
By the way, DDJ-RX can also be used as a stand-alone mixer with external sources like CD players and turntables.
Pioneer DDJ-RX will be on shelves later this year with a price tag of € 1049. Visit Pioneer's official product page for more information.
Pioneer DDJ-RZ

DDJ-RZ is the brother of DDJ-SZ except the software. Just like DDJ-RX, this one runs on Rekordbox DJ too. Of course, this doesn't mean you can't use other software programs, I'm sure they are both MIDI compatible.
What makes DDJ-RZ different from others is the size which is almost the same with CDJ-DJM combination and features inherited from those professional DJ products. Take it to the club booth and perform just like other pro DJs.
It's huge and heavy, I'll tell you that. About 24 lbs (10.7 kg) weight and 34 inches (87 cm) wide. You really need to look for space to fit it in. But hey, it's a total pro-level controller, you can't expect less.
For me, the most distinctive feature of DDJ-RZ is the dual sound cards it carries on board. Also two separate USB connections for your laptops. This means you can DJ on both computers or can easily switch between two DJs without interruption to music during live performance.
What else do we get ? 4 channels, 16 performance pads, direct recording of your sets via Rekordbox DJ software, color FX, release FX, filters, samplers, OSC sampler (horn, noise, sine, siren) on board, 8 hot cues, beat jump, slip mode, needle search, talk over function on the MIC channel and more.
Pioneer DDJ-RZ will be available in October 2015 with a suggested price of € 2099. For those who are more curious, here is the official product page.
Rekordbox DJ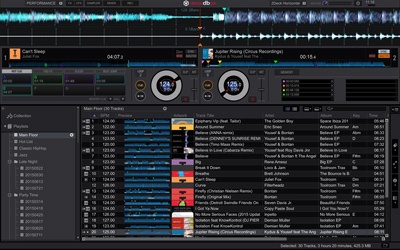 This is the latest move from Pioneer DJ, also a very significant one.
Rekordbox itself has been known and used by DJs as a free music preparation and organization software for most Pioneer DJ products. All we did was set everything in it and transfer music to the USB storage.
Now, there is a Plus Pack addition to it which is called Rekordbox DJ. Yes, it's a fully featured DJ performance software, just like Virtual DJ or Serato. Competitors will definitely not like it, I guarantee you.
Rekordbox is still free of charge. You can download it and use just as before. But, if you want to get the full software, you need to pay for this Plus Pack which is € 139 (available October 1) or will have the option for a monthly subscription at about € 10.90 a month (starting December 2015).
I'm not gonna detail all the features here, "complete DJ software" pretty much explains it. The software matches all the functions of those two new digital controllers by the company. So, users shouldn't have any compatibility issues. In fact, Pioneer DJ states that Rekordbox DJ goes along with almost all controllers in their product line. CD and media players as well.
Go ahead and visit their official website. You can try before you buy. There is a 30-day free trial.
Conclusion
In the near past, I had the slight impression that Numark might be getting close to dominate the DJ industry, especially after buying Denon DJ.
Well, I might re-evaluate that thought now, especially after the release of this software, it looks like Pioneer DJ will still be way ahead of its other rivals for a long time.