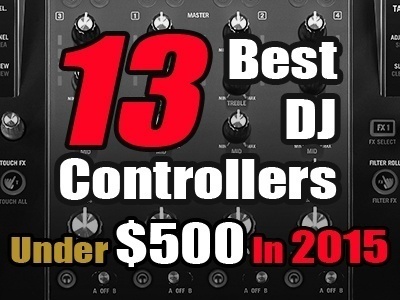 If you are looking for the best DJ controller you can buy for under $500 in 2015, this is the right place to look for it.
I started gathering these top DJ controllers back in 2013 and made a list in my articles and it became a tradition for Digital DJ INFO since then. Believe or not, they are among the most popular ones for my readers.
This year,the list will be longer than the previous ones, thanks to DJ Controller Guide.
I was able to find the best DJ control devices on this website which are listed and sorted with their specs, price range and ratings.
13 of them will be listed below from a total of 10 major brand names. This is the most comprehensive list I ever published on the website.
If you are interested in more, please visit DJ Controller Guide website and I'm sure there is something for every budget and level there.
Update: DJ Controller Guide is a part of Digital DJ INFO now.
Here we go ! Top DJ controllers of 2015 under $500 :
1. GEMINI G4V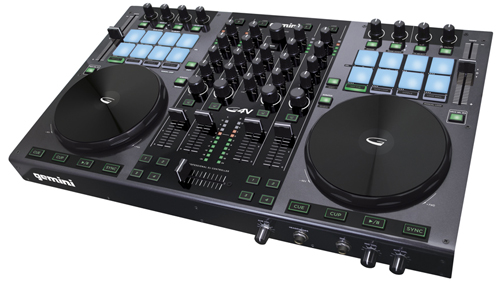 Gemini G4V is #1 in our list this year.
This 4-channel controller comes with 4-deck control by the included Virtual DJ LE software.
Performance pads, 24-bit audio interface, extra-large jog wheels, multiple audio in/out ports and the pro grade level design and built quality are some great features I can mention here.
It has a solid and sturdy all-metal body.
The reason I chose it #1 is the unbeatable price tag for all the functions and specs G4V has.
Check Prices:   AMAZON  |  EBAY  |  AMAZON UK
2. AMERICAN AUDIO VMS4.1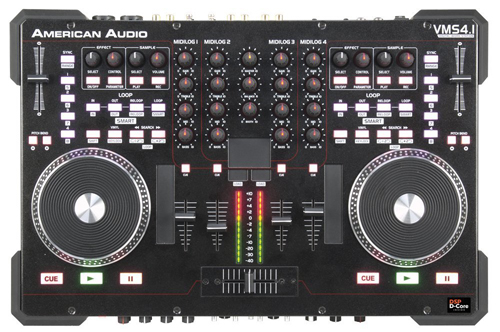 If you're looking for an extra durable and strong built controller for really rough use (mobile and wedding DJs), American Audio VMS4.1 should be your choice.
Besides the rock solid build quality, this 4-channel controller has most of the pro features and functions you can find out there.
First of all, a complete audio port section with Line/Phono, balanced and unbalanced in and outputs as well as booth out are all in the back of this unit. This is what I call "Pro Level".
24-bit studio quality audio engine, touch strips, mouse pad, 4 midi/analog channels with 4-deck control of Virtual DJ LE software, replaceable crossfaders and 12-LED Master out volume level meter are some of the specs you get with this well priced DJ control device.
Check Prices:   AMAZON  |  EBAY  |  AMAZON UK
3. VESTAX VCI-300MKII
Hello scratch DJs, I got the best digital DJ controller you can get for under $500; Vestax VCI-300MKII.
What is great with VCI-300MKII is that it comes with the full version of Serato ITCH software and a free upgrade to Serato DJ full version.
Vestax is always known for manufacturing great DJ products for many years and this is one of them with a very competitive price.
24-bit audio interface, high-resolution/touch sensitive jog wheels and DC adapter power are some of its features.
Check Prices:   AMAZON  |  EBAY  |  AMAZON UK
4. DJ TECH DRAGON TWO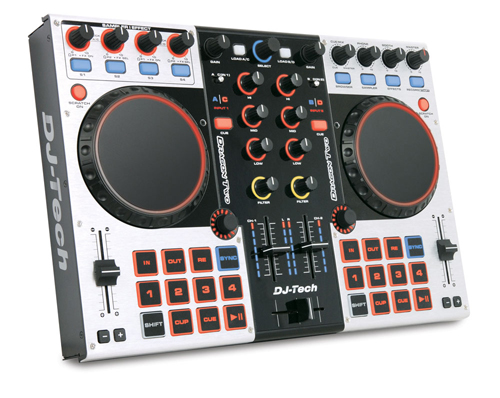 DJ Tech may not be a well-known brand for you, but they have some quality products too. Dragon Two is one of them.
Despite having only 2 channels, Dragon Two can control 4 decks at the same time with Virtual DJ LE included in the box.
This unit is a real bargain for its features and functions.
Standalone mixer section, 2/4 Deck Audio mode, DVS capability and bright backlit buttons/knobs which are easily visible in dark are some of the features.
If you don't want to spend a fortune and looking for more usability for the price, Dragon Two would be your choice.
5. STANTON DJC.4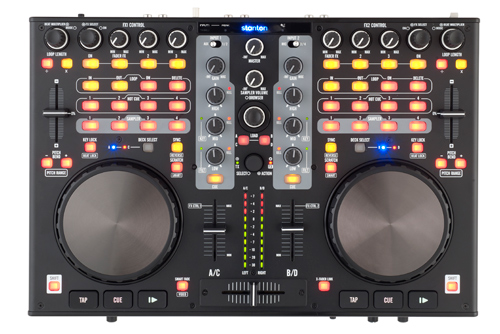 If you are a Virtual DJ fan, you will love this !
Stanton DJC.4 is one of the best controllers designed for Virtual DJ software.
First, let me say that it's a hard rock unit built on steel chassis with high quality parts used.
You get video mixing capability, 4-deck software control with Virtual DJ LE and a discounted paid upgrade to Pro version, crossfader and jog wheel sensitivity adjust, multiple audio in and out ports, volume level meters with this feature packed control device.
DJC.4 is competitively priced and worth a try.
Check Prices:   AMAZON  | EBAY  | AMAZON UK
6. HERCULES DJ CONSOLE 4-MX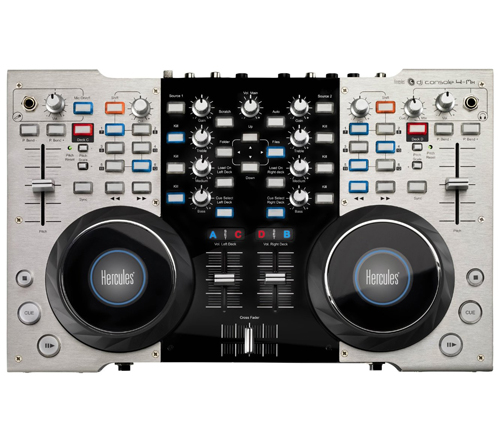 Hercules has many models to choose from, but DJ Console 4-MX stands out with its features and price among them.
This controller will come to you with its special transport bag included. It is also another Virtual DJ LE 4-deck unit.
One remarkable feature of DJ Console 4-MX is the jog wheels, they are real professional grade, dual zone with pressure detection and can be locked from bottom in transit so that they don't move and shake.
Microphone and headphone outputs are on top panel to make it easier to reach.
4-MX is also compatible with most MIDI software.
Check Prices:   AMAZON  |  EBAY  |  AMAZON UK
7. RELOOP TERMINAL MIX 2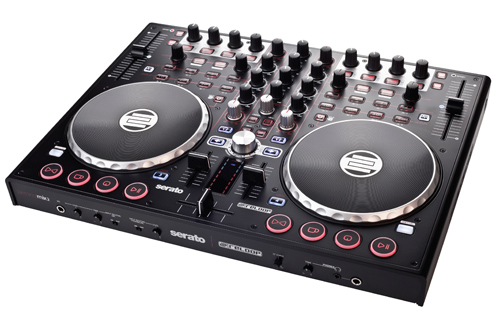 There are 3 Reloop controllers on our list this year and Terminal Mix 2 is the first one.
I couldn't decide which one is better. This German brand has several different models to cater every DJ and budget.
Terminal Mix 2 is designed and optimized for Serato DJ and includes the Intro version in the box, yet it's compatible with other programs too.
You can easily see that it is made of high quality parts built in a metal case.
You'd love the 6.1 inch extra large jog wheels ! It also comes with a standalone mixer section and full size 100 mm. pitch sliders.
I personally wouldn't hesitate buying a Reloop product, so you shouldn't either.
Check Prices:   AMAZON  |  EBAY  |  AMAZON UK
8. RELOOP BEATMIX 4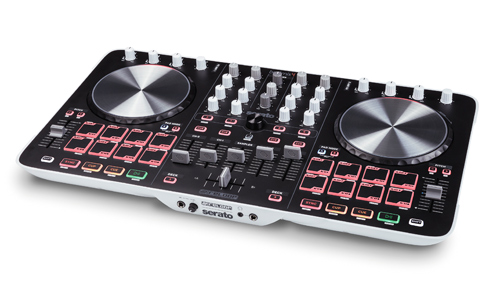 Reloop Beatmix 4 is highly recommended for beginner and hobbyist DJs.
Although it has very limited audio in/out ports, Beatmix 4 is ideal for home use.
Best feature of this unit is that it comes with Serato DJ Intro 4 channel version and capable of 4-deck software control.
With its 4 audio channels, color coded drum pads, 5.6 inch aluminum jog wheels, built-in audio interface and light weight, this German branded DJ controller will be an ideal choice for you.
Check Prices:   AMAZON  |  EBAY  |  AMAZON UK
9. TRAKTOR KONTROL S2MKII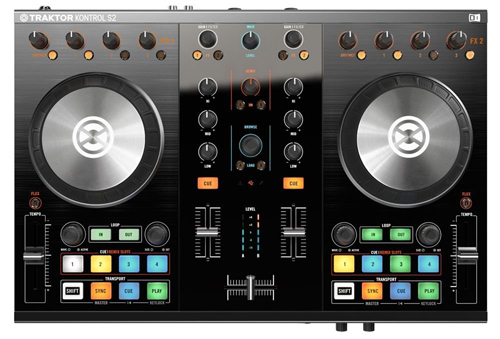 Traktor Kontrol S2 MKII is my top pick for IOS DJs. If you mix using your iPad or iPhone, this is the one for you.
S2 MKII is shipped with Traktor PRO 2 with Remix Decks included.
This controller has fewer features than the ones I listed above, but it has the signature of Native Instruments and the popular Traktor software.
Solid construction quality, built-in audio interface, included IOS 30-pin connecting cable, full version software are among the reasons that you would buy it.
It is also compatible with Traktor DJ for iPad, but not included.
Check Prices:   AMAZON  |  EBAY  |  AMAZON UK
10. NUMARK MIXTRACK QUAD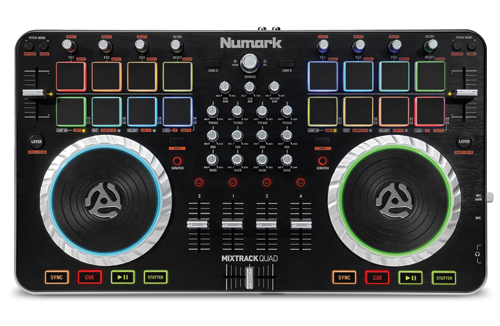 Numark Mixtrack Quad is a good choice for home users and hobbyist DJs since it has very limited audio connections.
On the other hand, with its 4 audio channels, you are able to control 4 decks with the included Virtual DJ LE and Serato DJ Intro software.
8 drum pads per deck, large,dual zone and illuminated jog wheels, two included programs and its light weight are the goodies of this Numark DJ control device.
It comes with a very competitive price too.
Check Prices:   AMAZON  |  EBAY  |  AMAZON UK
11. RELOOP MIXAGE IE MK2
Another well-built mid range controller from Reloop, made of quality components.
I recommend this one mostly for hobbyist DJs. Reloop Mixage IE MK2 is optimized for Traktor software and includes Traktor LE 2 in the box.
Touch sensitive jog wheels, 14-bit pitch faders, DJ Team Switch feature (with Traktor Pro) and a total of 54 MIDI control button and knobs are what you get with Mixage IE MK2.
It also has the SHIFT button for second layer controls.
Check Prices:   AMAZON  |  EBAY  |  AMAZON UK
12. NUMARK MIXTRACK PRO II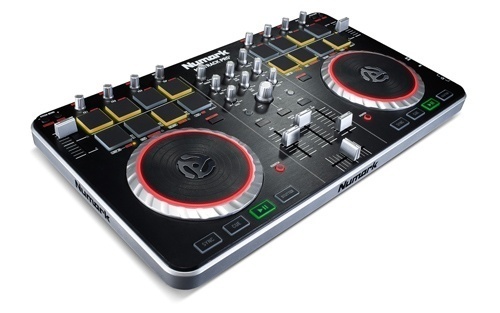 Numark Mixtrack Pro II is the best-selling mid range DJ controller in the world.
Despite its older version Mixtrack Pro, this controller has more features and like the performance pads added.
It has a better sleek design and built with higher quality parts and components.
On the other hand, Mixtrack Pro II may not be suitable for professional use because of limited audio ports and being only USB powered.
Serato DJ Intro is included as a free download for this DJ control unit.
If you are a beginner DJ and want to own one of the best mid range controllers out there, this should be your choice.
Check Prices:   AMAZON  |  EBAY  |  AMAZON UK
13. PIONEER DDJ-SB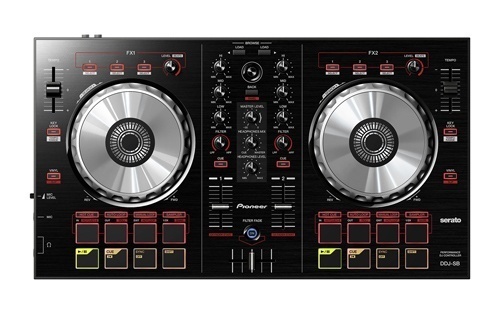 For those who look for the most affordable controller from the top brand, here is Pioneer DDJ-SB.
It sure carries the quality of Pioneer DJ and is an ideal controller for your first step into DJ'ing.
Although it comes with Serato DJ Intro, DDJ-SB is also compatible with other DJ software.
Big jog wheels, performance pads and the Filter Fade function are among the great features of this device.
Keep in mind that DDJ-SB if offered in 4 different body colors (black, blue, red, silver).
Check Prices:   AMAZON  |  EBAY  |  AMAZON UK