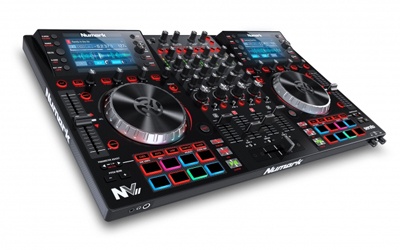 I have exciting news for Serato lovers ! Numark just announced its new 4-channel controller for Serato DJ: NVII.
At first look, NVII is obviously an update to its sister NV, which is the first Numark controller with built-in color displays. DJs who experience such display screens on their devices know how easy it gets to focus on the music rather than staring at your laptop every two seconds.
So, this is the major feature with NVII. Other than that, you get 4 separate channels with dedicated filters on, naturally 4 decks of Serato control, real-time visuals of the software on the device screens, also dedicated controls for most software functions.
Jog wheels are metal, hyper responsive and 5 inches wide. They come with adaptive learning technology which means they know how hard and fast you spin them.
8 velocity-sensitive performance pads on each deck (RGB backlit), 10 pad modes for hot cues, loops and samples, pro grade crossfader, fader start and curve adjustment are among other cool features of NVII.
NVII is designed for club use with multiple audio outputs (balanced and unbalanced) and has detailed library browsing functions on board, enough to keep you away from your computer screen.
This new Numark controller may not be a major step up from its previous version but quite enough to prefer for the fresh shoppers with all these cool and satisfying features and functions.
You can visit NVII official page for more information. It will be in stores this summer with a suggested price tag of $699.