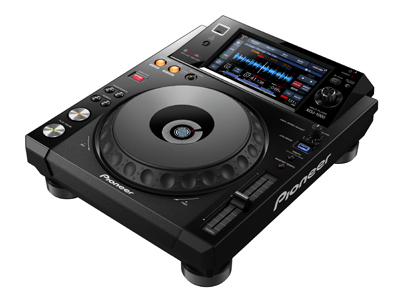 Pioneer got one step closer to the "All Digital" DJ gear scene by announcing its newest media player today: XDJ-1000.
We clearly understand that the company is aiming to control the club DJ setup market whether it is for CDs or computers.
XDJ-1000 is the digital version of legendary CDJ series, obviously. I chose the angle photo so that you can easily see there is no CD slot in the front.
Despite being a single deck, XDJ-1000 comes feature loaded just like its conventional tabletop DJ controller competitors and do you know what makes that happen ? The 7-inch touchscreen displays.
Pioneer built something Numark and Native Instruments skipped by installing the touch screens on their newest product. I'm not sure if this feature will give them a lead in the market since the device itself is pretty pricy. We'll see.
If you think about the cost of forming a DJ setup with a pair of XDJ-1000 and the mixer of your choice, this new Pioneer DJ product probably will not target the average users.
Let's take a look at what XDJ-1000 will offer to its future owners.
As I mentioned above, the 7-inch touch screen allows most of the control by dividing into 3 sections: Browse, play and perform.
It has a Qwerty keyboard just like smart phones enabling you to search your library at lightning speed. No need to say that a keyboard is essential for digital DJ devices for optimal performance.
Another great feature is the wireless connectivity. You can load songs from your laptop and smart phone by means of Rekordbox software which is provided by Pioneer for free.
For that, you'd need a wireless modem or hub. Besides, XDJ-1000 is fully MIDI compatible and can be mapped to any DJ software. Using the USB connection, you can control your favorite software. Oh, before I forget, let me also mention the Serato HID integration possibility.
In addition to these key features, XDJ-1000 also carries other great functions like beat jump, loop move, quantize, beat sync, slip mode, needle search, active loop, wave zoom, beat countdown, phase meter and MY SETTINGS feature with color coded USB port light.
Pioneer XDJ-1000 is expected to be released at the end of this month with a suggested price tag of $999.
You can visit Pioneer's official product page for more information and here's the official introduction video below.