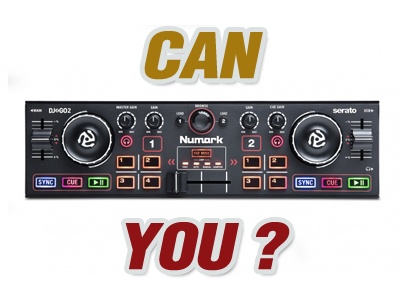 It is small, it is light, it is portable. Put it in your backpack and go. Takes almost no space, easy to connect, absolute user-friendly. I'm talking about Numark's smallest DJ controller, DJ2GO2. Affordable, practical, ideal for mobile DJ'ing.
All these are fine, but the real question is, " Can you really perform DJ'ing with Numark DJ2GO2 ? ". Let me try to explain if and where you can DJ with it or not.
Numark DJ2GO2 is a good choice for those who are on a tight budget, don't want to spend too much on equipment and interested in DJ'ing as a hobby. You can very well use it for your home parties or just to improve your skills and practice.
It comes with Serato DJ Intro in the box. Install software on your laptop, connect via USB and you are all set to go. A simple sound system, even small speakers would be enough for you to complete your setup.
This little DJ controller takes almost no space, place it on your computer. Ultra compact. It fits anywhere you need it to. Bottom line is that Numark DJ2GO2 is meant and built exactly for this purpose.
Now, let's take a look at the other side of the coin.
Can It Be Used For Professional DJ Gigs ?
The answer is a simple no. DJ2GO2 misses a lot of essential and crucial features and functions which are life saving for DJs. What are those ? Let me explain.
First off, it doesn't have channel EQ knobs. You are not able to trim or adjust treble, mid or bass sounds that are an absolute necessity for mixing. In addition to that, channel volume faders are also absent. Yes, there is the gain knob on the controller but it's not the same thing. I mean, professionally.
Because of the size of DJ2GO2, every control button and knob is small and placed close to each other. Pitch slider range is extremely short which reduces sensitivity, jog wheels are too small to grip and control, as well as all other buttons on the controller. You definitely need space between them, in order to be comfortable while DJ'ing. Pressing a wrong button may cause a serious mistake during performance.
What about audio output ? A professional DJ controller has multiple ports which provide balanced or unbalanced connections to the sound system. There is only one on DJ2GO2 and it's definitely not suitable for this purpose. As I mentioned before, such an output port is only ok for home use.
Whatever I wrote above does not mean this Numark product is bad. Just trying to explain where and how you can benefit from it. For example, you can own DJ2GO2 as a perfect backup for your main setup during a gig. In case of a failure on the main system, you can switch to it temporarily until the problem is solved. It may save you a gig and a lot of time in that situation.
So, when deciding on Numark DJ2GO2, beware of what it is capable of and what are missing on it. After all, it comes with a very affordable price tag which you can check on Amazon by clicking here.
You May Also Read