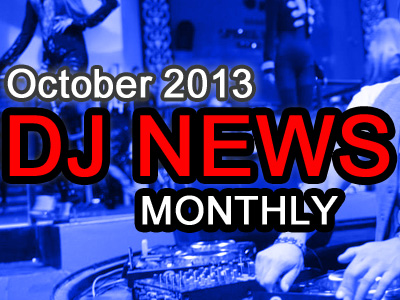 Starting today, we will publish a monthly news post for our readers filled with information about DJ'ing world that we think you'd be interested in.
From equipment deals to latest news about DJ gear and music will be what you'll find in DJ News Monthly.
Without further due, let's start our first issue and list the headlines we picked for this month.
Ok, this is not new. although being around for over a year, we thought you may wanna know about this cool website.

Partycloud.fm is a web-based DJ application giving you access to over 20 million songs from SoundCloud. Nothing to download. It opens in your browser instantly.
You have the choice to control it with your mouse or using Mixvibes DJ controllers since it's compatible only with that brand for now.
Packed with various basic DJ control features like EQ, effects, looping, sync and more.
For "Busy DJs" !, there is also an auto pilot mode that you can turn on and it does all the hard work for you.
Please visit their F.A.Q page to find out how you can get familiar with this awesome application.
BAG THE GEAR Deal From Denon DJ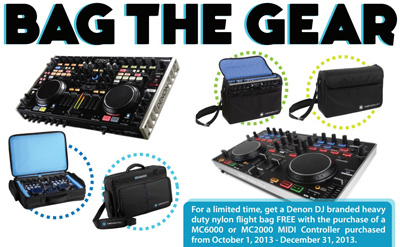 This deal is for U.S. customers only. Denon DJ offers a free Denon branded heavy-duty flight bag when you purchase a MC2000 or DN-MC6000 digital DJ controller until December 31 2013.
This is a mail-in rebate. By visiting Denon's website, you can reach the promotion details and offer coupon.
Keep in mind that controller bags and cases would be an extra cost to your budget. So, this is a pretty good deal folks. I used Denon controllers for years and it's one of my favorite brands !
$300 Rebate From Numark In the U.S And Canada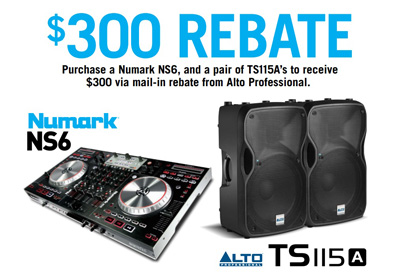 This is a great deal from Numark. It's valid in USA and Canada.
If you purchase Numark NS6 and a pair of Alto TS115A 15″ active speakers, the company will be more than happy to send you a nice $300 check back.
This offer from Alto Professional is valid until November 30 2013. Please visit the promotion page and the offer coupon for more information.
We'll publish the " November issue" towards the end of next month with more deals and news. This is it for now.