Can You Use IOS Devices For DJ'ing ?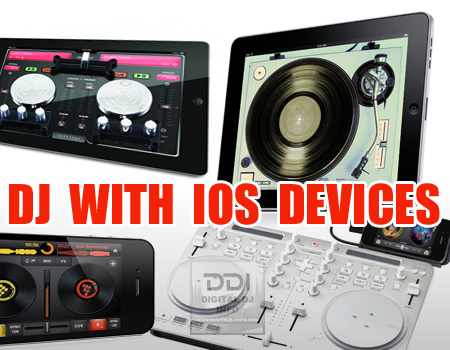 Digital DJ'ing is expanding its operation surface every single day. It started with computers, then standalone digital media players arrived and now it's into mobile smart devices we carry around.
There are applications making it possible to convert IOS devices into powerful DJ performance units. We'll take a look at some popular ones among those.
Although these smart devices are really handy and easy to use, we should keep in mind that it hardly gives you the feeling of DJ'ing with traditional DJ equipment.
Besides applications installed on IOS devices, you can also choose to connect them to special DJ control units designed and manufactured for Iphone, Ipad and Ipod.
Algoriddim's Djay
This is one of the most popular IOS DJ apps which natively supports many DJ MIDI controllers like Pioneer DDJ WeGo, Numark iDJ Pro, Vestax Spin2 and more.
Djay comes with a full package of specs including Auto mix, recording, automatic beat and tempo detection, visual mixing with waveforms,looping, cue points, EQ controls and so on.
You'd have the option to choose between Djay for Ipad and Iphone. For more info about this app, click here.
MixVibes Cross DJ
This app is the mobile version of MixVibe's powerful DJ control software. It is both for Iphone and Ipad.
With its complete interface, you can perform a DJ set as you would with regular DJ gear.
Some of the features of Cross DJ are loops and FX, media management, 3 band EQ, frequency kill, FX touch pad and vinyl wheel.
You can purchase CrossDJ for Iphone or CrossDJ for Ipad for about $10 in App Store.
DJ Player
This is one of the most reliable and universal DJ player apps for IOS devices.
It is designed for real DJ performances in club environment with many powerful features.
Live background image via camera
Multiple output modes
BPM sync between multiple devices
MIDI connectivity
Timecode vinyl control
Optimized battery life
Very low latency
32 bit audio processing
4 FX per deck
"Tweet the currently playing track" function
You can try this app for free. For more info, click here.
Designed and build by iMect.
Deej By Inqbarna
Yet another DJ player app for both Iphone and Ipad. Features are listed below.
Jog wheel with two modes: scratching or pitch bending
Virtual headset precueing or splitter based real precueing
Social network sharing capabilities
All-on-screen interface
2 simultaneous tracks
iPod Library Support
Adjustable Pitch (+/- 20%)
Channel independent volume and gain controls
Single CUE point
3 band equalizer
Main crossfade
Very low latency response
Connected to SoundCloud (new version 2.2)
Recording (new version 2.2)
Here is the website for Deej.
iDJ 2 Go
As we mentioned at the beginning, there are special hardware control units for IOS devices.
iDJ 2 Go is one of them. Being small enough, it's easy to carry this gadget with you anywhere.
It has basic DJ controls like crossfader, jog wheels and audio effect controls.
It connects directly to your device with no additional power supply.
iDJ 2 Go comes with its own Ipad stand and a free app downloadable from app store.
Visit their website for more info.
What other IOS DJ apps do you know and recommend to others ? Share with us below in the comment area.