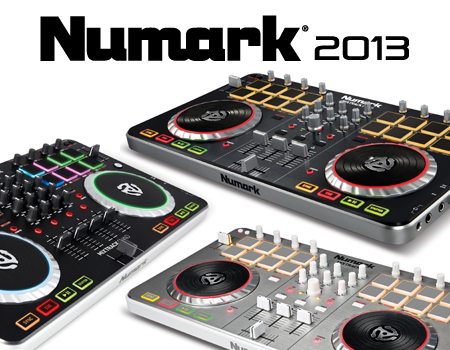 Numark, as a leading brand name in DJ equipment world, is storming the market with its 2013 product line with higher quality and re-modeled digital DJ control units.
We zoomed on few of these controllers which are already released and ready to purchase for very reasonable prices.
Numark seems to raise the bar even higher and may dominate the competition with its rivals this year.
Below you will find information about some of the new Numark DJ controllers released in 2013 which are already on sale as we publish this post.
Numark Mixtrack II
This controller is re-designed with expanded layout of pro controls with backlit drum pads and illuminated platters. It is bundled with Virtual DJ LE.
Mixtrack II comes with functions like auto beat sync, hot ques, looping, effects and more.
It's sold on Amazon for $199.99

Numark Mixtrack Pro II
One of the flagship Numark products now comes with a 2013 facelift and looks better than ever before.
Not only the design, but also the quality got higher including better looking body and controls.
This unit also has backlit pads and illuminated platters like its brother.
You can purchase Mixtrack Pro II for $ 299.95 on Amazon.

Numark iDJ PRO
Although being released in 2012, iDJ PRO is expected to be a best-seller again in 2013 and it is on Numark's new product line for this year.
What makes iDJ PRO different is that this unit is designed to control Ipad devices. It turns your IOS unit into a powerful DJ performance source.
You can get iDJ PRO for $ 378.00 on Amazon.com.

We will be following the other new Numark products and post them here as soon as they go on the market. Follow us !