Fold Your Laptops, NV Is Coming !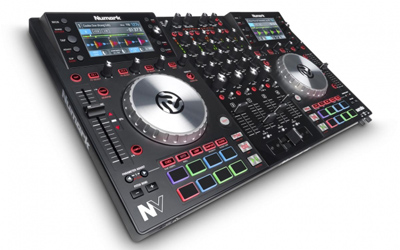 Numark announced its all new NV controller for Serato DJ today.
Ok folks, this is a new chapter for digital DJs. You will be using a laptop but not at the same time. How does it sound ? Weird, right ?
I've been watching Numark making a huge progress in features and quality of its products in the last 5 years or so and being amazed every time they release a new one.
This is one of them. An " Imagined but never seen before " 4-channel DJ control unit which brings real-time software visualization on board so that DJs can focus on playing and mixing rather than getting lost on their laptop screens trying to follow the software.
There have been rumors around that Numark is about to build a Windows embedded controller since April when we saw a picture of such a unit. Well, this has yet to be denied or unproven but now, NV is coming with two 4.3 inch full colored displays giving you 1:1 real-time feedback of Serato DJ software.
You don't need anything else. Every software function necessary is on those screens.
What about the size ? Does it look big to you ? Let's see.
Numark NV is about the size of Traktor Kontrol S4 even though it looks larger in these images. Reasonable.
Let me brief you on the features and specs of Numark NV a bit.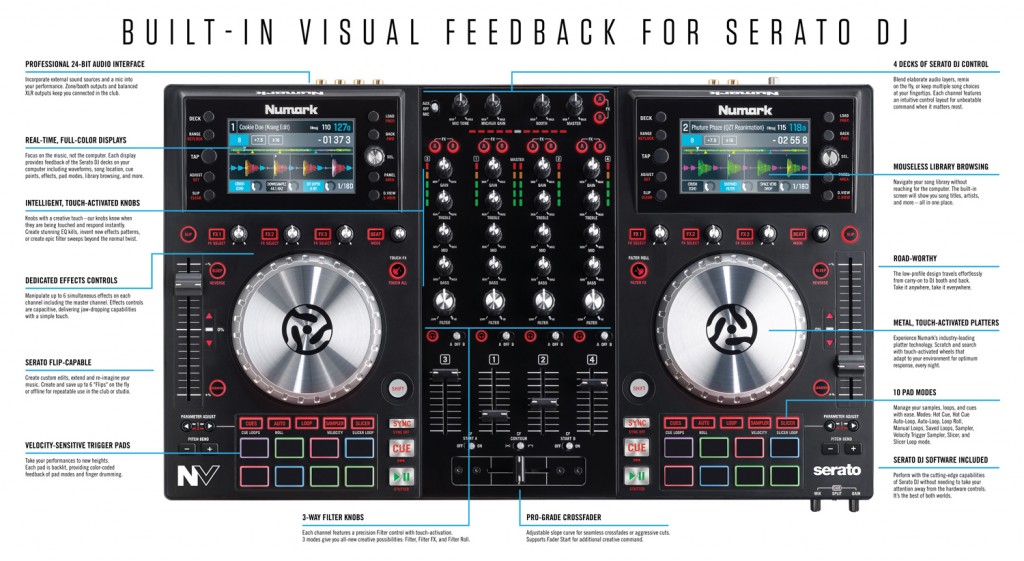 We already talked about colored screens. You will also be able to switch between library and waveform modes in order to prepare and organize your music.
It has 5 inch dual zone, touch activated metal platters with search and scratch modes.
Touch sensitive filter and FX knobs. All you have to do is place your finger tip on and it triggers instantly.
16 velocity sensitive trigger pads. 8 on each deck. Just like the ones we saw on NS7 II.
4-channel mixer section. This is quite a good feature for DJs using more than 2 sources while mixing.
NV comes with a built-in 24 bit audio interface including Aux/Mic in, zone/booth and XLR outputs as well as RCA connection. In addition, this unit is external AC adapter powered. No consuming USB sources.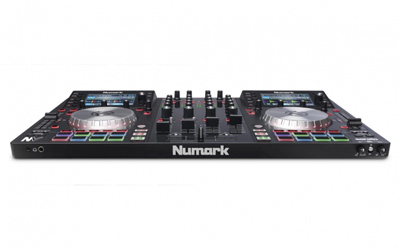 A pro-grade crossfader with fader start and slope curve adjust functions. You don't see this feature on most DJ control units.
NV is bundled with Serato's flagship DJ software and exclusive download access to Toolroom Remix Packs with no additional cost.
As a veteran DJ, I personally prefer not getting distracted by looking at the laptop screen frequently, therefore  I favor such a DJ controller with on-board screens.
If you're interested in buying this new Numark masterpiece, wait a few months more. It will be available this fall with a price of $699.
And the lucky ones living close to Atlantic City, New Jersey can go and see it live next month at the DJ Expo.
For more information about Numark NV, please visit the official product page.