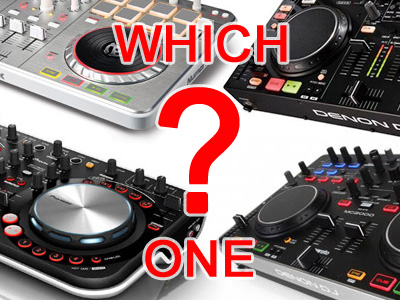 This must be one of the biggest question marks for you when it comes to choosing equipment as a hobbyist or beginner DJ.
I don't blame you. A decent amount of investment and some technical knowledge is required to make the right decision for yourself in order to pick the right piece. That's why I'm writing this post so it'll give you an idea of what specs you should look for when buying your equipment.
First, I must tell you that there are plenty to choose from a variety of manufacturers with similar features and specs. At that point, you should decide what brand you prefer.
DJ controllers usually have a basic and a pro version. Let me give you some examples.
Denon MC2000, MC3000 and DN-MC6000.
Numark Mixtrack II and Mixtrack Pro II.
I can add more and more to this list and I'm sure you already searched for other brands. If not, check out our DJ Controller Guide and browse thru selected models.
In most cases, some of the following features are additional in the higher versions of all these controllers:
More channels on the mixer section (2 vs. 4)
XLR (balanced) audio output
Booth output
Adjustable faders
Power feed (USB vs adapter)
Built-in audio interface
AUX in and out
MIC input
FX buttons
Channel fader led vumeters
In order to choose the right controller for your needs, you should decide how and where you'd be using it.
Will you always keep your DJ setup at home and only DJ as a hobby ? Or, is there a possibility that you may DJ at a party or maybe at a bar or club ?
If you say yes to the first question, then going for a basic version controller like Numark Mixtrack II or Pioneer DDJ-WeGO may be a good idea since you don't really need all those extra audio outs and additional features. Just a single RCA output will do the job.
BUT, if your " yes " goes to the second question, then it's a different ball game. Let me tell you why.
DJ'ing at a public place like bars, clubs or private parties with your own equipment may require some of the additional features I listed above. What are those ?
You may need the balanced audio output for better quality sound, booth output to mix properly, extra channels on your mixer to connect an additional device like your iPod, external power source to run your DJ setup stable etc.
They may not mean much to you now, but believe me, when it's time for public DJ'ing, you would regret missing these extras on your DJ gear.
If it's only for home use, let's say go ahead and buy Traktor Kontrol S2, Pioneer DDJ-WeGO or Numark Mixtrack II, even Mixtrack Pro II. These controllers would be more than enough for you.
If you intend to take your DJ'ing skills to the next level, a device like Traktor Kontrol S4, Pioneer DDJ-SX, Numark NS 6, Denon DN-MC6000 or Reloop Terminal Mix 4 might be a wise choice.
Audio inputs and outputs, internal sound card, number of channels on the mixer and self power option are the most important additions to your device determining the professional level it's at.
As I said at the beginning, what brand name to choose is your decision. I personally prefer Pioneer, Denon or Numark since they are the best out in the market and make great DJ products lasting for years.
It's all about your budget, your needs and your favorite brand. Please consider my advice when making the final decision for your DJ gear.