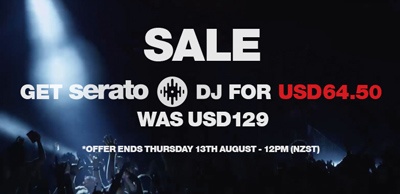 Serato is having a huge sale for Serato DJ software for a few days. This offer is valid until August 13, 2015.
If you buy the full version of this ultra popular DJ software now, it will cost you %50 less than the regular price tag which is $129. So it is down to $64.50.
The deadline for this offer is August 13, 2015 / 12 PM NZST. But the time difference makes it an earlier date in the west. For example, it'll be 3 AM in London on the same day and 8 PM EST on August 12th (one day before) in New York. So, please check the time ahead.
I highly recommend Serato DJ Intro users to take advantage of this great offer and upgrade it to the full version. In a previous post, I explained the differences between Serato DJ Intro and the full version that clearly explains what is missing in the free edition.
Guys and girls, this is your chance to grab it ! Keep in mind, no full version software comes with such a reasonable price tag.
You can either buy it by visiting their official website or in-app within Serato DJ.