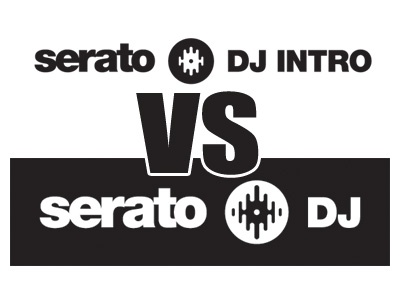 There are over 40 DJ controllers from almost 10 major brands in the market today, offering different versions of Serato as their bundled DJ software.
Features included in these versions vary depending on the device and its price range. What products does Serato offer to its users ? Let's take a look.
Serato DJ Intro, Serato DJ, Scratch Live, Serato Remote and Serato Video.
The most common edition of the this brand included in hardware bundles is the Serato DJ Intro version.
Intro is meant and developed for beginner level DJs, released with basic features and functions, yet enough for decent amount of DJ'ing.
Many DJs say they are quite happy with what Serato DJ Intro does for them and that it is really easy to use. I even heard people saying they are not upgrading on purpose.
If you use the Intro version, you already know that this edition comes with 2 decks, basic effects, library view with folders and very limited preferences in the setup section.
Of course, the question is, what would you do when you're advanced and experienced enough and it's time to jump to the next level which Intro can't accommodate your needs and expectations ?
I think you'd want to know what is missing in the Intro version or what additional features Serato DJ full version comes with. So, let's make a list and brief descriptions of them.
Expansion Packs
Ability to use additional packs of FX, Flip, DVS, Pitch N' Time and Video. You can expand your libraries with iZotope effects, your controller setup with turntables and CDJ's or mix videos just like audio tracks.
Quantize
Having your beatgrids set, you can trigger your cue points perfectly right on beat. Quantize can be adjusted in the settings.
Remote Support
You can control some functions of the software like play, sync, quantize and cue point triggering from your iPad or iPhone using Serato Remote app without touching your laptop or controller. This is a rare and cool feature many other DJ software programs do not offer.
Slip Mode
When it's activated, Serato software maintains the real-time position of the audio track while you apply a loop. The song continues in the background, but you don't hear it.
Record
This is a must for a real DJ. Full version of Serato DJ enables you to record your DJ sessions and mixes as complete audio files in AIFF or WAV format.
4 Deck Play
Serato DJ Intro allows you to use only 2 decks except two controllers (Reloop Beatmix 4 and Numark Mixtrack Quad). You can play 4 decks simultaneously with the full version.
Cue Points
While Intro has only 4, Serato DJ allows you to set up to 8 cue points.
SP-6 Sample Player
With Serato DJ, you can set 24 sample players allowing playback of short samples, loops, effects or full length tracks. It's only 4 with Intro.
MIDI Mapping
Serato DJ full version allows you to customize MIDI output to integrate with other additional controllers like effect control units.
Display Modes
With Serato DJ, you can choose between 2 and 4 deck displays with 5 different waveform layouts (vertical, horizontal, extended, stack, library).
Playlists
You can't create playlists with Intro, but yes, you can do it with the full version. Playlist feature is another essential part of software DJ'ing.
History
Serato DJ has the history feature which allows you to view or edit your previously played sets and export them or share online.
Smart Crates
You can create smart crates that automatically update by using keywords or rules like BPM or genre with the full version.
Whitelabel
The Serato Whitelabel Delivery Network allows DJs to play new releases for professional purposes at no charge. It's called " Free Promotional Releases For Serato DJs". Serato DJ enables this feature. More information about Whitelabel is here.
I believe all these great features and functions Serato DJ has are enough to convince you to upgrade from the Intro version. Please visit Serato's official upgrade page to get more information and pricing options for the software.