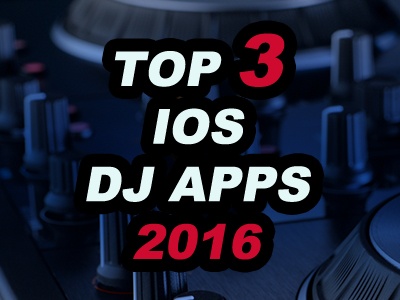 Cell phones and tablets have already been a part of digital DJ'ing for several years and we got controllers made specifically for mobile devices like Numark iDJ Pro, Pioneer DDJ-WEGO4, Reloop Beatpad 2 or ION iDJ 2 GO.
Better yet, use your iPhone, iPad or iPod without any physical controller or deck, thanks to touch screens. All you need is a DJ splitter cable to connect your sound and you're good to go. Needless to say, iOS DJ'ing is aimed mostly for fun and hobby rather than professional purposes.
If you are looking for a feature packed and reliable iOS DJ app just to rock your house parties or show off your talents to friends and family, here are the best 3 apps you can buy on the app store:
Djay PRO is the one with the highest price tag and the most advanced and pro-level DJ app. It is exclusively for iPad. It comes with high-definition waveforms, four decks and video mixing capability at 4K for you to create rocking mixes and performance.
Mix music from iTunes and Spotify with access to millions of songs using djay's live sampler, drum pads and FX functions on 4 separate decks simultaneously. If you own an iPad Pro, then you get more power than ever which almost replaces a laptop's performance.
Djay Pro's multitasking capabilities let you open other apps and interact with them at the same time. With split view option on your screen, you can use other apps without leaving djay. Take notes for song requests or a track list, you name it.
Smart keyboard integration is also available for djay PRO with over 70 shortcuts for cues, looping, search and more. Full HD video capture, support for 4K videos, 60 fps graphic rendering and AirPlay integration are among other features offered by this app.
You can get more info about djay PRO by visiting its official product page or purchase the app by downloading it on the app store.
Cross DJ is made available by Mixvibes, a company engineering DJ software for PC, Mac and mobile devices, also DJ controllers. The pro version is on our list today.
Cross DJ Pro for both iOS and Android is a fully featured app which enables you to mix with 2 decks supported by many features and functions. Sync, pitch bend with customizable range, waveforms, beat grid editing, quantized hot cues and loops, sampler, effects, keylock and auto gain are some of the great features that inherit from professional DJ software and hardware.
Unlike djay PRO, this one goes for all devices like your iPhone, iPod Touch or iPad. It requires iOS 8.1 or later though.
Another cool feature of Cross DJ is the SoundCloud integration by streaming tracks as fast as the locally stored ones. See, no need to overload your hard drive with music anymore. Just use online music services on-the-fly. Best thing is that you don't need a premium account for that.
And finally, you can record your mixes and upload them to Mixcloud directly from the app. Cross DJ combines your recording with track names and timestamps and creates an automatic smart tracklist. All is done within the app.
More details are provided on the official website and you can purchase Cross DJ Pro on the app store by clicking here.
This app is the only one in the list which can be mapped to be compatible with all USB class compliant DJ MIDI controllers. Mapping can be customized by users.
DJ Player Pro is advanced enough to get close to provide pro-level DJ performance. Multi-track playback with 4 decks, touch screen stand alone usage or with controllers, DJ Player Pro Cloud storage for track data such as cue points, loops and BPM data, manual beat matching, sync and pitch bend, ultra low latency audio processing, DVS support and scratching capabilities are among some of the great features this app offers.
It also supports NI's Stems format. 4 decks with 4 stems each. Go crazy !
Go ahead and visit DJ Player Pro official website for more info or download it on the app store (free with in-app purchases). Compatible with iPhone, iPad and iPod Touch.