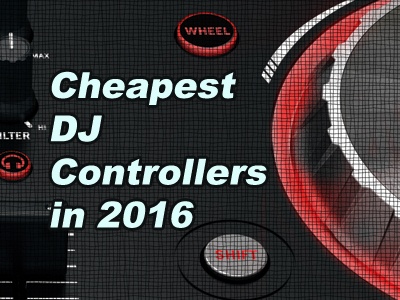 You want to be a DJ and on a tight budget at the same time. It is just a hobby for you which an affordable setup would do the job. A decent cheap DJ controller, your very own laptop or iPad, small PC speakers right on your desk. Yeap, that's all you need. Don't look for more if your dream is no more than going out of your bedroom.
Out of four or five components building your home DJ setup, we will touch the " DJ controller " part of it today. And this part will include the most affordable budget controllers sold in the market.
I selected 10 DJ control devices from reputable brands that are enough to handle DJ basics for you and listed them below explaining features and specs.
Here we go, 10 most affordable budget DJ controllers for beginners in 2016 ;
Behringer CMD MICRO
  Entry level controller from Behringer
  USB powered
  Compatible with most DJ software
  Touch sensitive jog wheels
  Can be used with IOS devices
  3-year warranty
  Deckadance LE DJ software included
  Slim design, light and portable
  Most basic controls you need to perform
Check price on :   AMAZON   |  AMAZON UK   |   EBAY
American Audio ELMC1
2-channel mixer
3-band EQ
Pitch bend controls
FX and sampler control
USB powered
Virtual DJ LE software included
Light and easy to carry
Check price on :   AMAZON   |   AMAZON UK   |   EBAY
ION iDJ 2 Go
DJ controller for iPhone, iPad and iPod Touch
Compatible with Algoriddim's djay app
Directly powered from your iDevice, no batteries
Free download of ION's iDJ2go app
DJ splitter cable and iPad stand included
Basic DJ controls and library browse functions
No EQ knobs
Cheap, light and portable
Check price on :   AMAZON   |   AMAZON UK   |   EBAY
Numark Party Mix
Best pick as a budget DJ controller
Built-in light show
Virtual DJ LE included
Master / headphone out
4 performance pads on each deck
3-band EQ
Auto sync function
Manage your music using iTunes
Plug and play
Check price on :   AMAZON   |   AMAZON UK   |   EBAY
Hercules DJControl Instinct S series
2-deck DJ controller
Built-in audio outputs
Pressure detecting jog wheels
USB powered
DJUCED 18°DJ software included
4-channel playback
Beginner level controls
Check price on :   AMAZON   |   AMAZON UK   |   EBAY
Behringer CMD Studio 2A
Dual deck DJ controller
4-channel audio interface
Touch-sensitive jog wheels
Deckadance LE software included
Compatible with most MIDI software
Sync and pitch bend controls
Backlit buttons
3-Band EQ
Library browse controls
Check price on :   AMAZON   |   AMAZON UK   |   EBAY
Numark Mixtrack 3
Budget DJ controller closest to professional DJ standards
Dedicated filter knobs for each deck
Prime Loops remix tool kit included
16 multi-function performance pads
Large jog wheels
Touch strips on each side for track search and FX control
No sound card or audio outputs
Full size pitch sliders
Virtual DJ LE included
Check price on :   AMAZON   |   AMAZON UK   |   EBAY
Epsilon Pro-Mix2
2-deck DJ controller
Built-in audio interface
Large touch-sensitive jog wheels
Hot cues and sample pads
Balanced / unbalanced audio outputs
Virtual DJ LE in the box
Most features for the price
Compatible with all DJ software
3-band EQ on each deck
Check proce on :   AMAZON   |   AMAZON UK   |   EBAY
Gemini SLATE
2-channel DJ controller
8 RGB backlit performance pads on each deck
Dedicated filter control on each side
3-band EQ
RCA master – 1/4 inch headphone output
Serato DJ Intro software included
Extra large jog wheels
Serato DJ upgrade ready
Very competitive price for all these features
Check price on :   AMAZON   |   AMAZON UK   |   EBAY
Numark Mixtrack Edge
Beginner level DJ controller
Slim design
Very light and portable
Serato DJ Intro download available
Virtual DJ LE included
USB powered
Full metal platters
Sample, sync, hot cue, loop functions
Only 1.85 lbs
Brushed aluminum control surface
Check price on :   AMAZON   |   AMAZON UK   |   EBAY