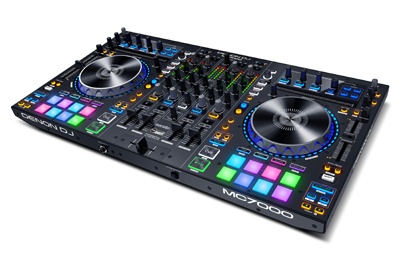 Denon is doing what it does best as usual. The company announced its latest digital DJ controller, MC7000 at DJ EXPO in Atlantic City last week. No surprise again, another high-quality pro-grade Serato controller !
MC7000 looks like a step down from the magnificent MCX8000, but it actually carries great features, enough to compete with the big brother.
First things first; MC7000 is a total professional 4-channel DJ controller which bundles with Serato DJ including three expansion packs (Pitch 'n Time, Flip and Video). It is adapter powered with an energy consumption of 15 watts. I love externally powered controllers 🙂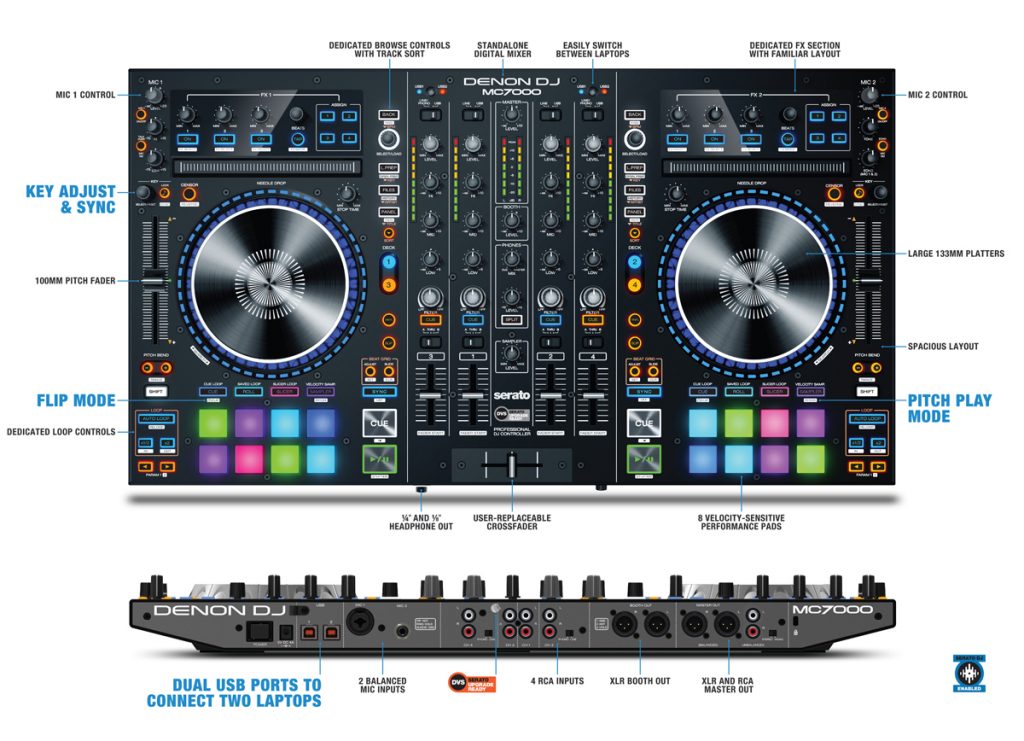 MC7000 comes with 4 channels, 4-deck control and dedicated library browsing sections for each side. Better yet, it has dual USB ports to connect two separate laptops allowing two DJs to perform together with their preferred DJ software. This means MC7000 is compatible with other software programs too.
Key matching and changing controls on MC7000 enable you to adjust the key of the track and mix harmonically with ease. This is something unique. I don't know any other controller with such ability. You can lock, sync and select the musical key with dedicated buttons on each deck.
Already standardized on many controllers, MC7000 also has 6-inch (133 mm) large jog wheels with rotational LED displays, 16 multicolored velocity-sensitive performance pads, 100 mm full-size pitch sliders, needle search, fully loaded audio connections in the back including balanced – unbalanced main and booth output, user-replaceable crossfader and slip / pitch play modes.
For vinyl lovers, MC7000 is Serato DVS compatible. Use your timecode media and play on turntables. You also get a standalone digital mixer section which allows you to connect external sources independently.
Denon is always known for building great DJ products and MC7000 will be one of them, for sure. If you are looking for a professional, long-lasting and fully featured DJ controller, this is it. Denon MC7000 will be in stores this fall with a suggested price tag of $999. For more information, please visit Denon's official product page.