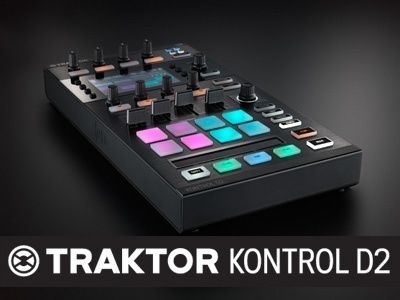 On April 7, Native Instruments announced Traktor Kontrol D2 as its newest modular DJ controller.
We are already familiar with Traktor single deck controllers like F1, Z1 and X1. D2 is more advanced and feature packed compared to them.
What are these extras ? Let's take a look.
First off, Kontrol D2 comes with a full-color display just like S8. In fact, the same one. It enables you to focus on hardware instead of your computer screen. So, you can easily fold it and put aside when using D2. For those who don't know, this high-resolution full-color screen displays Traktor Pro software functions on your device.
Below the display, there is the Remix Decks controls placed. Think D2 as a sliced version of S8. Again, no jog wheel. You get to use the LED guided touch strip for search and bend functions.
8 performance pads, hot cue / FX / Loop controls are all on board which you would expect from a fully functional DJ controller.
Native Instruments solved the height problem with four rubberized feet in order to elevate this unit to standard professional DJ mixer level when used in pro DJ booths. For home use, you can just lay it on the table.
Another new feature of D2 is being compatible with the Stems, a new multi track music file format which is also created by Native Instruments. What is Stems ? Let me explain.
It enables DJs and producers to record tracks, split into four musical elements: Drums, baseline, harmony and a lead stem, all in one file. You can work on each separately when performing on stage, like applying effects or just playing them alone. More information about Stems can be found here.
This new format seems to be a revolution in music production and also for DJs. Keep in mind that your software and hardware needs to be compatible.
As I stated before, D2 is a single deck, but two of them can be linked to each other via USB and controlled from one software with a single connection to your computer.
Traktor Kontrol D2 will be available online and at DJ equipment retailers on May 4, 2015 with a price tag of $499 / 499 €.