Are You Ready To Experience "The Ultra Portable DJ'ing" ?
Is DJ'ing a career dream or just a hobby for you ? The answer doesn't really matter in this post and what you will read about may interest both sides. We will tell you about a new Native Instruments product called Traktor Kontrol Z1 and you'll love it !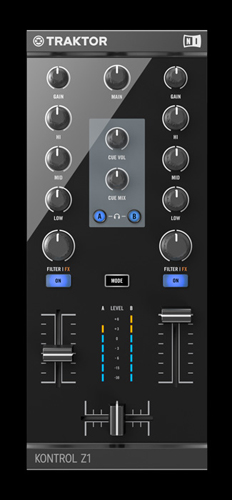 Most of us know how good and high quality Traktor controllers and software are.
When these features are combined with portability, it is really hard to say no to this powerful and professional DJ device.
We call it professional, because it includes most major DJ equipment capabilities. The manufacturer calls it "Pro On The Go" and Z1 definitely deserves this slogan.
What makes Z1 different from the others ?
First of all, you find most major DJ controller features and functions on Traktor Kontrol Z1. EQ, headphone queing, filter FX, on board sound interface and more.
On top of these, it doesn't occupy space almost at all, compared to regular DJ equipment. Put it in your bag and go !
Perfection of Z1 comes with the combination of the controller and your Apple devices like Iphone or Ipad.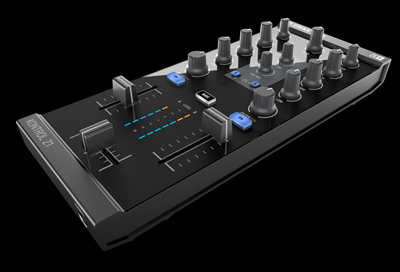 Let's take a look at Z1
This device has 3 main control sections: EQ/Filter, Que and Fader.
You may say " Where is the rest ? " and the answer is " on the software ".
Z1 can be matched with Traktor LE, Traktor DJ and Traktor Pro 2. Let's remind you that Traktor DJ is FREE for download in the App Store.
Other DJ'ing controls remain on the software screen which give you an unmatchable performing experience. Z1 is a perfect addition to Traktor's software power.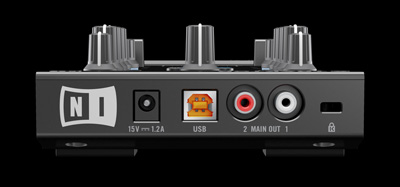 Traktor Kontrol Z1 also charges your Iphone or Ipad when connected via its special 30-pin connector. So, there is no worry about running out of juice on your Idevice.
Z1 has its own AC adapter and is a perfectly self-powered DJ controller.
Below, you will see images of setup examples for Traktor Kontrol Z1.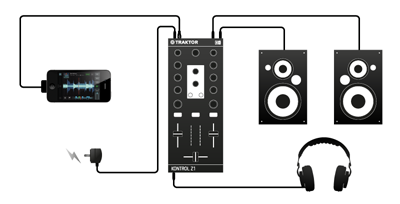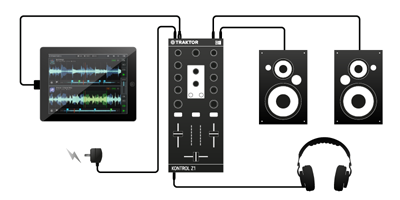 If you are into an ultra-portable DJ controller, look no further ! Z1 is the perfect choice to match with your Apple devices or even PC and MAC laptops.
If you're interested in buying Z1, it's sold for $199 on AMAZON.com.