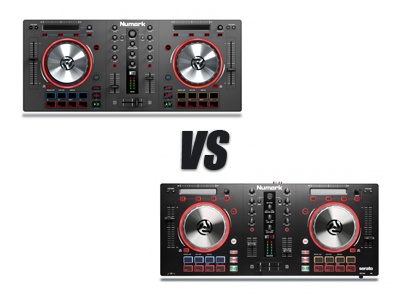 Two best-selling DJ controllers from Numark. They are both beginner-level and both look the same at first sight. You can't really tell which is what. I'm talking about Numark Mixtrack 3 and Mixtrack Pro 3. Two professionally designed and feature-packed digital DJ control devices.
One is below $200 and the other is a little more than that. Do you wonder what makes that difference in price ? I can hear you saying, " Sorry, I don't see it, they are both identical to me ".
Yes, they are visually identical. All knobs, buttons and faders are the same and placed on both, at the same spot. Size is almost equal. You may very well ask that question, " Why should I pay more for the Pro version ? ". Let me tell you why you should.
My dear readers, both controllers look the same but they are different, inside. What changes inside ? Let's take a look.
Sound Card
If you plan on playing professional gigs at some point, you definitely need an audio interface to connect your gear to the sound system and we call it a Sound Card. This is what Mixtrack 3 is missing. It is actually a crucial component of any DJ controller, in order to use it properly for a DJ.
Numark Mixtrack 3 is not really intended for professional purposes, basically for home and hobby use. Other than that, it acts just like the Pro edition.
You can overcome this by adding an external audio interface like Numark DJ iO 2 to your setup but don't forget, it is additional cost to you and more connections on your laptop.
Audio Outputs
Since the sound card is missing on Mixtrack 3, you naturally don't get any audio connection ports on the device. There is only a USB port, in order to connect your controller to the laptop. Sound goes through USB and processed on your computer, which means more load and higher risk of crash for it.
You are not able to use headphones by connecting to Mixtrack 3, therefore can't monitor or preview songs. All has to be done either from your laptop's sound out or the external audio card.
It is always best that sound is processed onboard and separate from your laptop. This should be the primary reason for you to choose Mixtrack Pro 3 unless you intend to use it only at home.
Software
Ok, DJ software is not missing on either 🙂 Just different ones. They both are bundled with the entry-level versions of Virtual DJ and Serato.
Mixtrack 3 is mapped for and sold with Virtual DJ Limited Edition which you need to register and activate after purchase. Keep in mind, this version is also with limited features and functions just like the controller itself. You can take a look at their product comparison page .
On the other hand, Mixtrack Pro 3 comes with Serato DJ Intro, also a limited version, which is user upgradeable to Serato DJ full version.
Software is your choice and taste. Both are the best in the market and most used ones. It will be your pick, I guess.
So, these are the major differences between Numark's two sister controllers and it will be your decision on which one to choose. If it's for home and hobby use, pick Mixtrack 3, otherwise go for the Pro version.