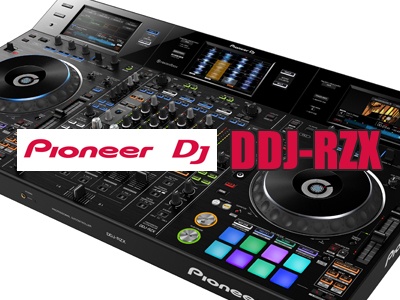 Pioneer is expanding its DDJ-R Rekordbox product line by announcing the new DDJ-RZX 4-channel multimedia controller.
This huge DJ control device with 37.2 inches width and 35 lbs weight will definitely be a flagship unit of the company's Rekordbox controller series. DDJ-RZX may not just be for everybody. Why ? let's see.
First of all, it's big, heavy and really expensive, not an ideal DJ controller to easily carry around. A truly professional device. A lot of features on it may stay untouched for an amateur or beginner DJ. If you are new to DJ'ing, you will need lessons to learn everything on DDJ-RZX.
Built-in Color Displays

Three 7-inch colored touch screens let you access track info, BPM, key and waveforms of each track, as well as enabling video playback by means of Rekordbox Video Plus Pack. You can use these displays to monitor video and image files, trigger effects and adjust their parameters by your finger on them.
Biggest advantage of these three screens is eliminating your laptop while performing and bringing all the necessary data and info onboard to DDJ-RZX. Fold your computer and put it away !
Video Mixing

This is probably the most noticeable feature of DDJ-RZX. You get a free licence key for Rekordbox Video software included in your purchase. It's an add-on to the existing Rekordbox software. By using it, you can load videos and images on decks or stream live footage from a USB camera in your software. Then you can add text overlays and FX in real-time. Cool, isn't it ?
Effects
DDJ-RZX also comes with some new effects controls on board. You can apply Sound Colour FX and Beat FX at the same time and trigger Release FX to reset them instantly to create a break.
You also get the Sampler Repeat to change the length of a loop by touching the screen. Basically, there are all the effects features Pioneer has on the new DDJ-RZX.
Live Stream
Don't you wanna go live while DJ'ing on stage ? Well, here is your chance. DDJ-RZX lets you connect a USB camera to your laptop and stream live footage from the main deck so that your audience can see themselves on the screen.
Take still images and apply text overlay, them send it on screen. I don't think any other DJ software or hardware let you do it before. Rekordbox Video Plus Pack enables all these cool features which is included in your Pioneer DDJ-RZX purchase.
Dual USB Ports

For those who don't know what it is for, let me explain. Pioneer DDJ-RZX has two USB ports in the back so that you can connect two laptops and run both at the same time. As I mentioned before, this is a total professional device intended to be used in clubs and parties and the dual USB connections make it easy for DJs to switch while performing without interruption in music flow. Most high-end Pioneer DJ products have this feature.
Besides all these extensive features I summarized above, DDJ-RZX comes with other functions and capabilities like first-class large jog wheels inherited from CDJ-2000NXS2, multicolored performance pads, extremely high-quality audio interface, free Rekordbox DVS licence key included and a full-size mixer section. One thing about DDJ-RZX is that it's not a standalone device like Denon MCX8000 and still needs your laptop to be connected in order to operate.
Pioneer DDJ-RZX will be in stores this July with a suggested retail price of $2999. Please visit the official product page to get more information.