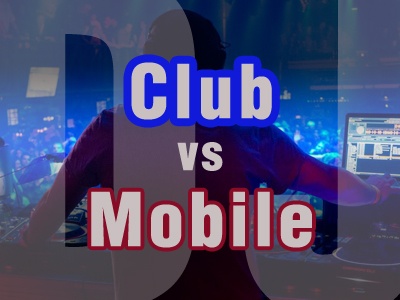 It's basically DJ'ing, right ? Looks like it is, but both have different skill sets and formations. Let's talk about club vs. private party DJ'ing a bit.
When I say private party, I mean to include all events like weddings, sweet sixteens, birthday parties and so on. On the other side, the " Club " headline is for clubs, bars, lounges, in other words, commercial entities which are open to public. You, as a DJ, have a primary duty and target on both; entertain the crowd, we all agree on that. But how do you manage that when you play at a club or what do you need to do for a private event ? I'll explain both below.
Club DJ
A club DJ is one of the major factors at a venue for customers because of the music he or she plays. Every single club or bar has also a theme; a rock bar, a techno club, etc. People choose a place to go that night for the music they like and prefer. What determines the crowd's satisfaction is the music they hear and dance to.
See, we're talking all about you, the DJ 🙂 That makes you the hero. As a club or bar DJ, you spin what you're good at and the boss pays you for the same reason. It means you have a responsibility of good and quality music for that commercial establishment, so they can make profit.
A Club DJ can dress casual, show up at the venue like 30-40 minutes before the gig, does not carry too much and heavy stuff around. CD cases or maybe a digital DJ controller and the laptop. Oh, and a pair of headphones, I almost forgot 🙂
If there is more than one DJ performing that night, you as a club DJ have less to do. Spin an hour or so for a specific genre or even a warm-up session. All you need is watch the crowd and engage music to the need of that hour. Because it's a commercial place for profit, you should let the bar sell in periods, this means you can't just pump the beat non stop. Let's say you spin a 20-30 minute really up-tempo and popular tunes and then need to slow it down a little, so that people can rush to the bar and get more booze 🙂
Even though club DJs accept requests from audience, you mainly are bonded to the owner's selection of music. When he says " play disco ", you can't throw a free style request in, coming from a customer. You do it three times and you're out. Long story short, club DJs work for the bar and the boss. You are pretty much not in liberty to perform freely. There might be exceptions, of course.
At the end of the night, you wrap up your stuff, relax a little, get a drink, get paid and leave the place. Not a time-consuming process. In my opinion, club DJ'ing is less work, but also less money to make.
Private Party DJ
Being a mobile DJ (weddings, private parties, etc) is a whole different story. There is definitely much more work and effort involved. Also more investment. Naturally, it brings more income.
You, as a private party DJ, need to prepare a lot of stuff before the event. It's not like club DJs walking in and pressing the play button. There is equipment, music library, meetings with the party owners (like bride and groom or wedding planner) we're talking about. All need to be planned ahead.
Professional mobile DJs usually own their sound and lighting systems. That's the biggest cost of your setup. Renting it at every event just sucks money out of your pocket. Little profit is left behind in that case.
Besides that, your music library has to be really comprehensive of all genres out there, in case they ask for it. You just can't say no. As I mentioned before, it's a private event. Thanks to technology, we are able to reach each and every song by means of internet and music subscriptions on the spot. That makes things really easy.
At a private event, you, as the DJ, are unfortunately not the focus point. Your job is to enrich and support that somebody's special day with your tunes. They ask for specific songs in a specific order and you do it. Of course there are certain periods of the event that you get behind the wheel and rock the floor.
There is also MC'ing involved. I used to do it myself 🙂 Being in charge of the mic is certainly a talent and one of the most important parts of the event. Better you do it, happier they are.
Mobile DJs need to spend time for planning before the event, like meeting the party owners, seeing and inspecting the venue for your spot and availability of premises. You have to show up there like two hours before the start and set up everything, check sound, get dressed (you go there casual and become formal later on). Then do the same thing at the end. Break down equipment, load the truck or car, change cloths, drive back home, unload again. A lot of effort and time.
You choose to become either a club or mobile DJ, knowing the ups and downs of both. If you decide it as a full-time job and a real profession, mobile DJ'ing will definitely feed you and your family, but be prepared to get tired and invest a chunk of money to start business at the beginning. As I mentioned before, club DJ'ing is less work, more popularity but less money also.