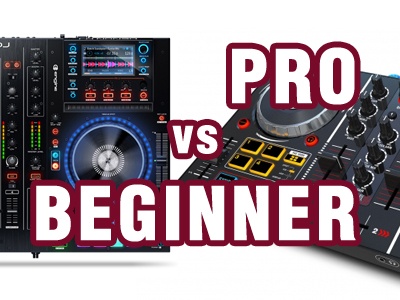 Anything you are new in life, you start from bottom and go up top by improving yourself and using more advanced tools at every step. DJ'ing is one of them. When you're a beginner, you use the basic tools and learn it before getting more complex and professional.
There is a reason beginner DJ equipment is designed and built for those who just started to practice DJ'ing. Basic controls, fewer features and functions compared to higher level controllers. Included software is also the limited version. Overall, the whole device is limited. It is meant for either fun or bedroom use. Let me try to explain why beginner DJ equipment will not be suitable for professional use in the long run, if you decide to go further in this business.
Let's take two DJ controllers in hand and compare them. Numark Party Mix and Denon MCX8000. One beginner and one pro-level device. What do we look for to determine if they can be good for professional level practice ? Audio capabilities, size of control knobs and buttons, music source connections, software features, etc.
Audio Connections
Part Mix has only two outputs; main audio and microphone out. The main output is unbalanced which can cause disturbance in sound with no grounding or isolation. You have only one option, connect to a PA system with RCA cables, that's it. Well, it's unfortunately not enough for professional use. Where is the booth output and controls for you to monitor sound while mixing ? Where is the additional AUX input in case you need a backup source for emergencies ? None.
MCX8000 provides all of these and even more. Two master outputs (balanced / unbalanced), one balanced booth out for your monitor speaker, two microphone connections and four line inputs for external devices like CD players or turntables. That's what I call a real backup 🙂
Mixer Section
The beginner controller has only 2-band EQ, no mid controls. No LED level meters either. You need to be in visual control of sound levels for each channel and the master gain when performing. Some DJs may also need a microphone attached to the system but Party Mix doesn't have that option.
On the other hand, MCX8000 carries every single feature on the mixer deck for a professional DJ. 3-Band EQ, gain trim, assignable channel faders and individual filter knobs on each channel, separate level meters, microphone gain and effects, booth level and EQ controls. What else could you ask for ?
Jog Wheels
Some may oppose to this, but full-size jog wheels are crucial to me. In fact, everything oversized is good on DJ controllers in a professional environment. You can't really feel the control on the wheel when adjusting the pitch or the beat if it is small. If your hand is larger, then it's a problem. Party Mix is small and MCX8000 is just perfect in size.
Pitch Sliders
Full-size 100 mm pitch sliders mean the optimal sensitivity and accuracy when adjusting pitch and tempo. While performing at a club or wedding, you definitely need every bit of those 100 millimeters. Beginner DJ controllers mostly come with short ones, like the Numark Party Mix. Not enough for pro DJs. Oh yeah, MCX8000 has it !
Stand-Alone Feature
If your controller runs on AC or DC power, it means that the device does not really need the computer sources to operate. MCX8000 is externally powered with an AC adapter and can function as a stand-alone mixer and player even if there is no laptop around. Use your flash drives, CD players or turntables, even your smart phone, it will play the sound out. You can't get it on the beginner DJ controllers.
Colored Displays
A software display screen on your DJ control device makes life easier, you can tuck the laptop away. It helps DJs focus on the controls rather than staring at the computer screen every 30 seconds. Needless to say, it's hard to get it on cheap and small devices. Displays are among professional DJ standards nowadays.
I think I made my point. It doesn't mean I'm against buying and using entry-level DJ equipment but when it's time to go up a higher level, that little budget DJ controller will not be enough for your needs. After reading this article, I hope you understand why you can't really pro-DJ with beginner equipment.
Also Read;