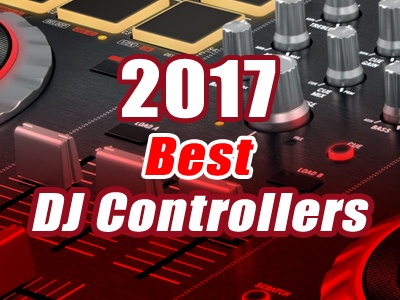 We got so many new models and options in DJ controllers in the near past. Beginner choices, mid-level selections and the professional grade DJ control units in the market. There is definitely one for everybody and every purpose. The question is how to find the right DJ controller and how to decide which one is right for you.
Not only the controller itself, but software is also another tough one to pick. They seem to do the same job but some controllers have more advanced features and capabilities for their users. Full version software or the intro ? 2-deck or 4-deck play ? Video mixing options or not ? All here to find an answer for.
I would personally focus on the controller rather than the software if I were out to shop for one. I'd care about the size and the audio output features of the device just because it directly affects my DJ'ing quality and skills. Especially the size of your DJ controller is absolutely relevant to the options and functions it carries on board.
Audio output connections determine how and where you can use your controller. If it is an entry-level device and has no audio card or sound out, this means it is not meant to be used for professional DJing. Why am I telling you this ? because you need to decide if DJing is only a hobby for you or a possible future professional achievement.
Nobody wants to waste money on something they wouldn't need six months down the road. It's always better to spend a bit more now then throwing it in garbage later on.
Keep in mind that most DJ controllers come as MIDI devices and can be used with other software too. No need to get stuck with the one coming out of the box. You can always switch to your other favorite software. Of course, there are some exceptions 🙂 The most popular software brands in the market today are Serato, Virtual DJ and Traktor. I also would like to mention two brand-specific software too; Pioneer's Rekordbox and Denon's Engine Prime.

Some DJ controllers by Pioneer and Denon are built to operate only on their respective software which I wrote above. You may see some of them in our lists later in this article.
One thing I should warn you about … Once you get used to a certain DJ software, it might be hard to switch later on. It doesn't mean they are totally different, but it just becomes a DJ habit. The way you organize and display your music library, the layout of the software, even the integration between software and your DJ controller. You get accustomed to all that stuff. When you flip the switch and jump onto the other, the chances are that you won't like it.
So, my personal thought and recommendation for the software is Serato. Other DJs may prefer different ones. The reason I choose Serato is that the software is more commonly and widely used with new models. When you buy a new DJ controller in the future, there will probably be Serato on it 🙂
Without further ado, let's start listing the best DJ controllers of the year 2017 for beginners, mid grade and pro-level users with their ups / downs and review / price information.
---
2017 Best Pro-Grade DJ Controllers ($1000 And Up)
---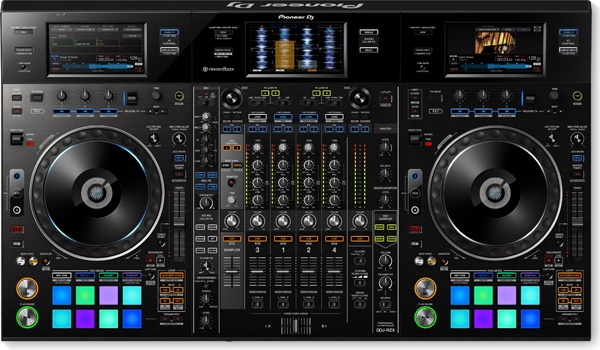 4-Channel multimedia controller
37.2 inches width / 35 lbs weight
7 inch built-in coloured touch screens
Video mixing features
Stream live footage from main deck
Dual USB ports for two separate laptops
Simulates CDJ / DJM setup and functionality
UP
Best and most advanced DJ controller in the market
All features you'd ever want included
Video mixing capabilities
Colored touch screens eliminate the need of your laptop
You can connect and run two computers at the same time
Real Professional grade, gives the feeling of CDJ / DJM setup
DOWN
Heavy, large and expensive
Not easy to carry around
Still need the laptop to DJ
Check Price Information :    AMAZON   |   AMAZON UK   |   EBAY
---
Pioneer DDJ-SZ2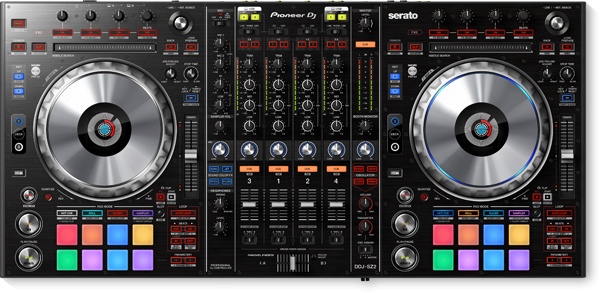 4-Channel Premium Serato DJ controller
CDJ / DJM size and functionality
Pro-grade Serato software packs included in the box
Dual USB ports for simultaneous DJ playback
Complete audio output ports
UP
Pioneer's best flagship Serato controller
Ideal for professional club and mobile DJ setup
Ability to handle dual DJ connection
Dedicated controls on board for Serato DJ functions
Premium FX features
Magvel faders
DOWN
Still large and heavy for individual use
May not be compatible with other software
Pricey
Check Price Information :    AMAZON   |   AMAZON UK   |   EBAY
---
Numark NS7III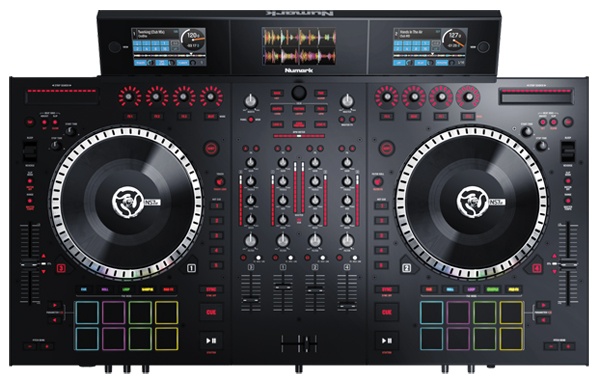 The only DJ controller with motorized platters giving you the real vinyl feeling
3 full color LCD screens
Connection for 4 different audio sources
Hi – Low torque switch for jog wheels
Real-time feedback of Serato DJ on controller screens
4-deck play / 4-channel audio mixer
Touch activated knobs
UP
The best and ideal DJ controller for scratch lovers
Closest digital DJ control device to the real turntable functionality
Perfect for club use
Gives you the freedom of tucking the laptop away
Comes with the full Serato DJ Pro package
DOWN
Heavy, heavy, heavy (31.57 lbs)
Difficult to carry
Check Price Information :    AMAZON   |   AMAZON UK   |   EBAY
---
Denon MCX8000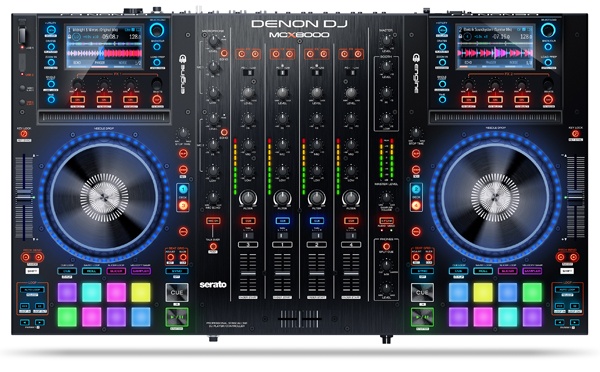 Best value with features and functions for your money
Your choice : USB inputs for stand-alone playback or Serato DJ via laptop
Built-in screens for software display
Switchable 4-deck on-board play feature
Perfect for mobile DJ use
Full audio output connections
Ability to control lighting and video
Serato DVS upgrade ready
UP
My favorite brand and model
You can use it without your laptop
Dual software compatibility (Engine and Serato – both included)
Best option for both professional and home use
Light weight
Best audio output quality
Seamless dual DJ playback possible
Standalone mixer
Key filtering for harmonic mixing
DOWN
Check Price Information :    AMAZON   |   AMAZON UK   |   EBAY
---
Traktor Kontrol S8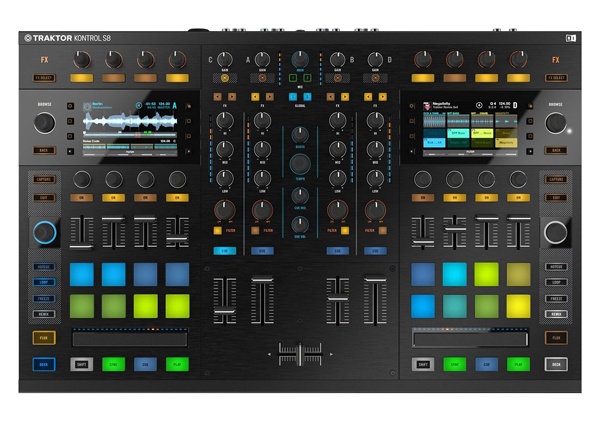 Native Instruments flagship 4-channel DJ controller
Stems technology ready
Stand-alone mixer
Traktor Scratch Pro 2 software included
Touch sensitive controls
High resolution deck displays
8 performance pads on each deck
Full control of Stems on board
UP
Real professional grade DJ controller
Including features you can hardly find on other brands
Ability to connect with other software using Ableton Link
Advantage of integrating Stems to your DJ performance
DOWN
No jog wheels, might be hard to get used to
Large in size, although not too heavy
Compatible with other software but color displays only work with Traktor software
Check Price Information :    AMAZON    |   AMAZON UK   |   EBAY
---
2017 Best Mid-Level DJ Controllers ($ 500-1000)
---
Numark NVII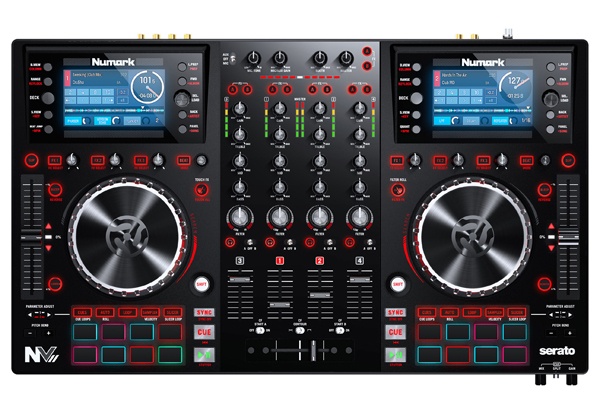 One of Numark's newest controllers for Serato DJ
4-deck play with 4-channel mixer
4.3 inch full-color screens for each deck
Zone / booth / balanced XLR audio outputs
10 pad modes for loop, hot cue and sample
High quality built and parts
UP
Great value for its features and functions
Put the laptop away, you have built-in screens
Light, only 7 lbs
Suitable for professional use
Ability to control 4 decks on board
AUX input for external audio source
DOWN
Still need the computer to perform, no stand-alone use
Check Price Information :    AMAZON    |   AMAZON UK   |   EBAY
---
Denon DJ MC7000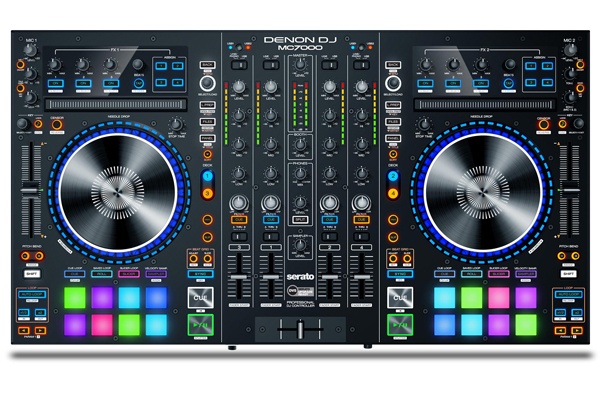 One of Denon's best DJ controllers on the market today
Stand-alone digital mixer section
2 USB inputs for dual DJ performance at the same time
2 MIC / 4 RCA audio inputs
FLIP / PITCH PLAY modes
4-Deck play feature on board
DC powered
8 performance pads on each deck
Split Cue function
Serato DVS compatible
UP
Absolute Denon quality
Best value for your money
Considerably light, around 15 lbs
Ideal for beginner, mid level and pro use
Would last a long time with its quality
3 Serato expansion packs included in your purchase
Everything full-size on this DJ controller
DOWN
No stand-alone play feature (Engine software) like its big brother MCX8000
Check Price Information :    AMAZON    |   AMAZON UK   |   EBAY
---
Reloop Terminal Mix 8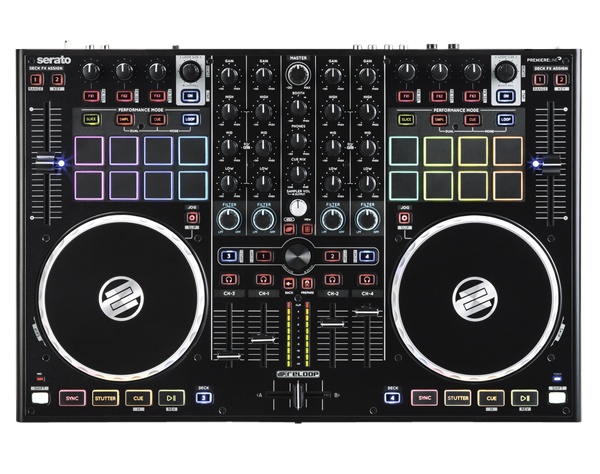 4-Deck Serato DJ controller
High resolution large jog wheels
Serato DJ full version included
Advanced mixer and deck controls
Full-size 100 mm pitch sliders
Balanced audio outputs for professional sound system connection
Serato DJ SP-6 sampler
UP
Rock solid body and build
Easy to carry, 11.6 lbs
MIDI compatible with every software
Full version software comes in the box
Very competitive price for its features
DOWN
No individual LED volume meters for channels
Check Price Information :    AMAZON    |   AMAZON UK   |   EBAY
---
Pioneer DDJ-SX2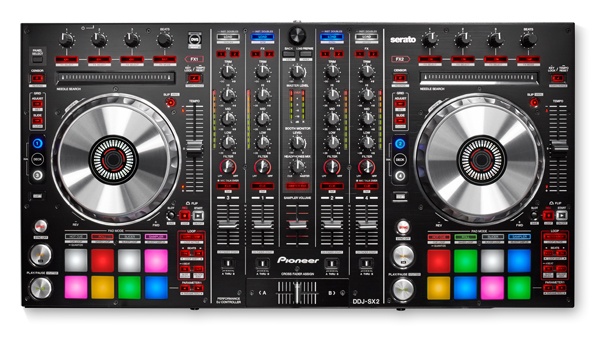 4-Channel native Serato DJ controller
Serato DVS upgrade ready
Also controllable with Pioneer's Rekordbox software
Manual filters assigned to each channel
Stand-alone mixer section
Full audio output ports for professional use
CDJ / DJM setup, layout and feeling
26.1 inches wide / 12.7 lbs weight
DC adapter powered
UP
Well known Pioneer quality of build and parts
Total professional grade DJ controller
Can be connected to external devices like CD players or turntables
No need to have laptop or software for the mixer section with external connections
upgradeable to play and mix videos
DOWN
Not too easy to carry around, relatively big sized
Little pricey compared to others in the same class
Check Price Information :    AMAZON    |   AMAZON UK   |   EBAY
---
Traktor Kontrol S5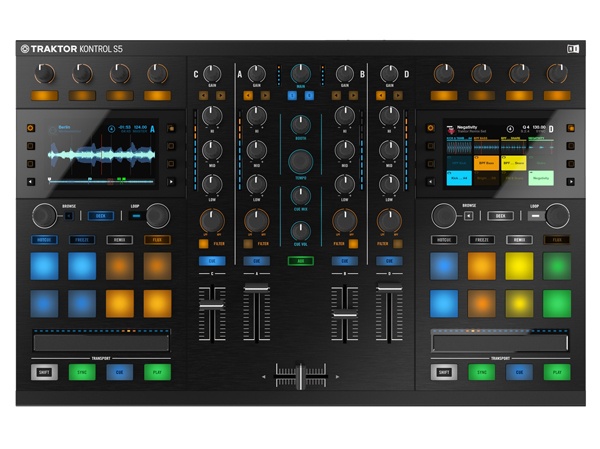 Professional 4-channel DJ controller
Built-in high-resolution displays for real-time software visualization
Stems ready
Touch sensitive knobs
Touch strips replace jog wheels
16 color coded performance pads
Traktor Pro 2 software included
Stand-alone AUX channel
UP
Native Instruments quality product
On board color screens for each deck
MIDI compatible with any other software
Ability to integrate STEMS into your performance
Portable, easy to carry
Comes with full version of Traktor software
DOWN
No jog wheels / unusual for conventional DJs
Built-in screens only display Traktor software
No stand-alone mixer function
Check Price Information :    AMAZON    |   AMAZON UK   |   EBAY
---
2017 Best Beginner Level DJ Controllers ($200-500)
---
Denon MC4000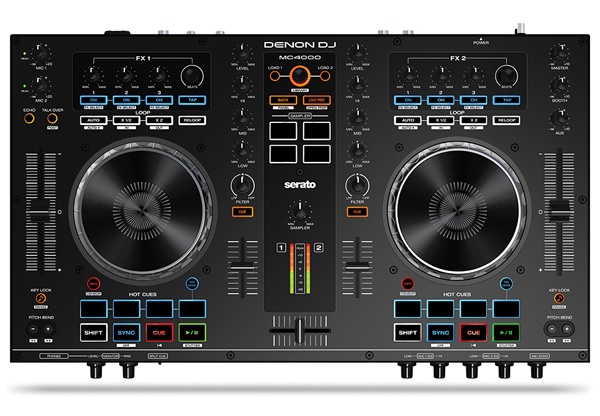 Best premium quality DJ controller you can buy for under $500
2-Deck control, 2-Channel mixer section
24-Bit audio output
Full size 100 mm pitch sliders
Advanced MIC input controls
Durable and long-lasting steel construction
Pro grade connection ports to sound systems
UP
Definitely the best value for your money in this category
Very high quality build and parts
Easy to carry (8.95 lbs / 4.06 kg)
Compatible with other software (Traktor 2, Algoriddim djay Pro and Virtual DJ 8)
AUX input for external audio
Balanced outputs for main and booth
User upgradeable to Serato DJ
DOWN
No stand-alone mixer section
No full version software included
Check Price Information :    AMAZON    |   AMAZON UK   |   EBAY
---
Numark Mixtrack Platinum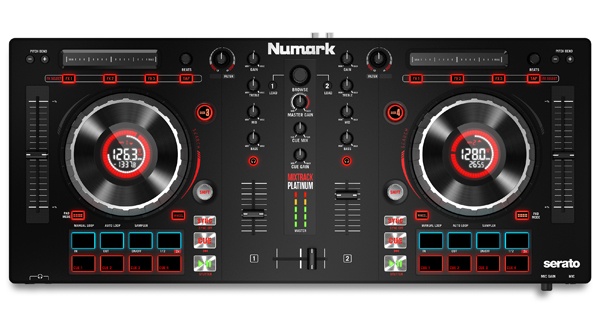 One of the best-selling beginner level DJ controllers
Multi-function LCD displays on each jog wheel
4-Deck Play function
Touch strip for FX and search controls
100 mm pitch faders
8 performance pads on each deck
Prime Loops remix tool kit included
Comes with Serato DJ Intro
Built-in 24-Bit audio interface
UP
Numark quality, one of the most popular products of the brand
Pro-grade features and functions for such a competitive price
Jog wheel displays make DJ's life easier
Light and easy to carry
User friendly layout
DOWN
Limited audio output ports
No full version software included
Check Price Information :    AMAZON    |   AMAZON UK   |   EBAY
---
Pioneer DDJ-SB2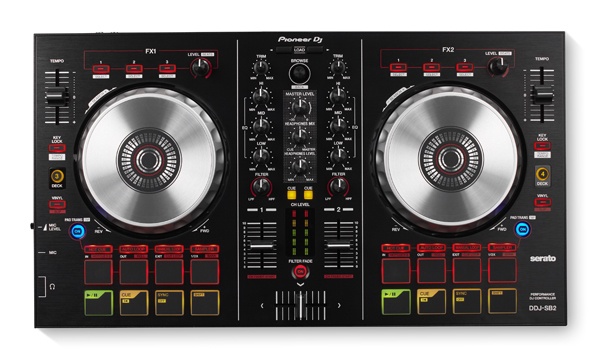 2-Deck Serato DJ controller
4-Deck control capability with software upgrade
3-Band EQ and trim knobs on each channel
Filter Fade feature
Manual filter controls
Can also be used with Rekordbox software
MIDI assignable via USB
Very light (4.63 lbs – 2.1 kg)
UP
Pioneer quality of build and parts
Ideal for beginners and bedroom DJs
Ultra easy to carry
DOWN
Not really suitable for professional use
Small in size compared to its competitors
Very short-range pitch sliders
Check Price Information :    AMAZON    |   AMAZON UK   |   EBAY
---
Traktor Kontrol S2 MK2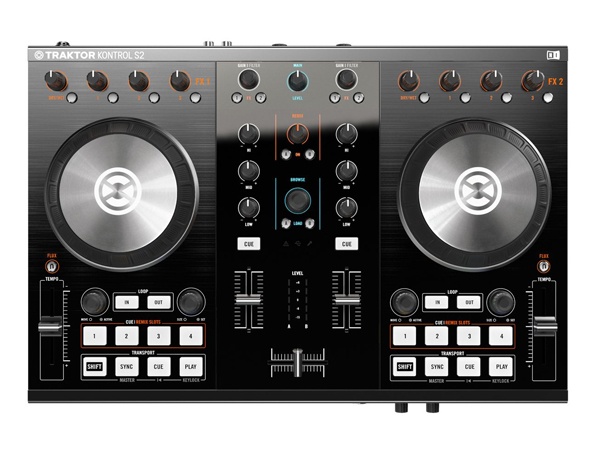 2-Deck DJ controller
Simple design and layout
For Mac / PC and IOS devices
Sturdy, durable frame and parts
Color coded RGB buttons
High quality sound card onboard
Dual main outputs (balanced / unbalanced)
UP
Compact and light
iOS ready, plug and play with your iPhone or iPad
Connectable to big sound systems via balanced output
Gain controls on each channel
Good choice for beginner DJs
DOWN
Little more expensive than others in the same class
Check Price Information :    AMAZON    |   AMAZON UK   |   EBAY
---
Gemini G4V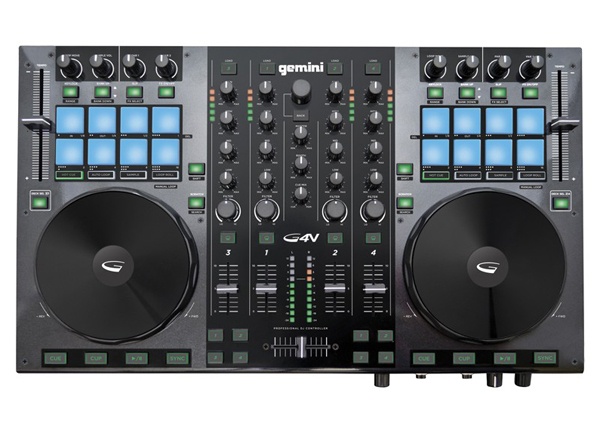 Real 4-Channel / 4-Deck DJ controller
Full size control buttons and knobs
Metal enclosure
16 performance pads
Separate Main / Channel volume meters
RCA / XLR (balanced) and Booth outputs
Touch sensitive jog wheels
Virtual DJ software included
UP
Most pro-grade features with the lowest price tag
Solid metal construction
Can be used by both beginner and pro DJs
AUX line input for external audio
Large jog wheels for convenient DJ control
Advanced FX and performance section
DOWN
Check Price Information :    AMAZON    |   AMAZON UK   |   EBAY
---