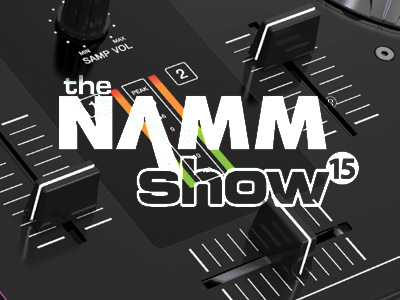 The NAMM (National Association Of Music Merchants) Show is one of the world's biggest exhibitions for DJ equipment manufacturers and it's held in Anaheim, CA.
This year's edition (Jan 22-25, 2015) hosted quite a few surprises from the major brands in the DJ gear scene.
Pioneer, Numark, Denon and Hercules were among major players of the market showcasing their newest products packed with features.
We are surely looking at a new year coming with innovative ideas and better looking, better functioning equipment for DJs.
Let's take a look at the latest models displayed at the show which will be in the market soon.
Pioneer XDJ-RX
Pioneer announced another all-in-one DJ system aiming the professional DJ level.
This new controller has no CD drives, totally runs digital acting as a USB player, also a MIDI controller.
The new XDJ-RX is an advanced version of XDJ-R1 only lacking the CD capability, but has more features built in.
The 7 inch, full color high-resolution dual deck display right above the 2-channel mixer section stands out. It includes waveforms of both sides as well as all information about tracks and other functions on the device.
It can also be used as a standalone mixer by connecting two external sources like CD players or turntables.
If you want to record your mixes directly to USB, go ahead and do it ! XDJ-RX has dual USB ports on the top panel for music input and recording. One more USB port is in the back for laptop or mobile device connection. Yes, it's also IOS/Android compatible.
There will probably be no DJ software bundled with it when released except Pioneer's own Rekordbox application. In fact, it's all you need to organize and analyze your tracks, even on your mobile devices with its app.
For those who would like to control computer software, XDJ-RX is also MIDI compatible with proper mapping.
You can visit the official product page for more information about this high-end Pioneer DJ product.
Denon MC4000
After being acquired by Numark, this is the first new release of Denon's premium product line.
I'm a big fan of Denon and happy to see that they announced another high-quality professional DJ controller.
MC4000 is built in an all metal body, looking sturdy and robust. Large metal jog wheels, full range 100 mm. pitch sliders, performance trigger pads on each deck, hot cue, sampler, FX controls are among many features of this beautiful Serato controller.
Only difference I noticed is the new layout and design of  this controller, compared to previous ones, which looks similar to the upcoming new Numark products that I'll be telling you about, later in this post.
It is also compatible with Traktor 2 and Virtual DJ 8.
Denon MC4000 will be released later this year with an estimated price of $399.99.
Numark NS7III
Here is the sister of Numark's flagship controller NS7II, with an addition of detachable triple color screens onboard, migrated from Numark NV.
Just like the previous version, NS7III is also designed and optimized for Serato DJ and can control 4 decks simultaneously.
This unit is heavy because of its motorized platters, giving the user a real vinyl feeling. Other than that, I think Numark NS7III is the most advanced and professional DJ controller in the market for scratch DJs so far.
Officials said that it's still in final testing phase and will be available later this year with the same price tag of NS7II, $1499.
One cool thing about the display unit is that NS7II owners will be able to buy it separately and connect to their controllers as well.
Numark Mixtrack III / Pro III
World's best-selling DJ controller just got better ! Numark announced the new Mixtrack III and Mixtrack Pro III at the NAMM Show.
They've got a facelift and look different now, including more features. The body is longer, pitch sliders are full range (1oo mm), both have the main volume VU meters in the middle, touch strips on both decks for FX control and strip search, illuminated large 5-inch high-resolution metal jog wheels and more.
Just like the second generation models, Mixtrack and Pro III come with 8 multi-functional performance pads on each deck placed below the jog wheels this time.
Coming out from the same hands, these controllers are very similar with the new Denon MC4000 in terms of parts and body.
Mixtrack III comes with Virtual DJ 8 LE, Mixtrack Pro III is bundled with Serato DJ Intro (user upgradable to Serato DJ) and both get Prime Loops remix tool kit. They will be available at the end of first quarter in 2015 for $299 and $199.
Numark Lightwave DJ Loudspeakers
If you are a private party DJ and have small-sized gigs, this would be a great choice for you.
Numark is coming up with these new compact powered DJ loudspeakers called "Lightwave" which have built-in LED arrays on both sides. So, audio and lighting solution for DJs !
You shouldn't be expecting a blasting sound from them as they have 100 W continuous power, but would be more than enough for small rooms or areas.
Being a mobile DJ requires a lot to carry with and set up / break down process. This includes the sound and lighting system too. Numark Lightwave speakers can easily eliminate the hassle with their compact size and light weight.
What are the specs ? Let's take a look.
It's 23 lbs with dimensions of 8.4 x 29.2 x 10.1 inches. So, it's tall, but not extremely heavy.
It comes with 3 6½ inch woofers and a 1-inch tweeter. This means the body is sort of narrow.
4 different input types: XLR, 1/4 inch, RCA and 1/8 inch, for mixers, microphones and other audio sources like MP3 players or your iPod.
There is also an XLR link output for connecting it to multiple speakers or subwoofers.
On/off function. You can enable and disable the lights anytime you want.
5 customizable lighting modes: Mood, Meter, Mix, Pulse,Party. it also has a demo mode showcasing all modes.
Brightness control: Adjust the lighting modes and brightness.
Dual volume controls for balancing the input level. Don't forget, it's powered which means the amplifier is inside.
There is also a 36 mm pole socket underneath for stand mounting or placing on a subwoofer.
The new Numark Lightwave speakers will be available later in 2015 with a suggested retail prize tag of $249.
Numark HF Wireless DJ Headphones
This is the new wireless addition to the Numark HF DJ headphones series.
HF wireless can operate both wired and via Bluetooth 4.0 with NFS pairing. It will give DJs the freedom of movement in the booth with a 30 ft. range, providing excellent sound and bass quality.
This unit has a built-in battery which lasts for 10 hours of operation with a single charge and it is pretty enough for the longest DJ gigs.
One thing about the wireless use is that these headphones naturally would have latency, even a bit. Therefore, it is better to wire-connect it to your mixer when DJ'ing except the case that you use your laptop's built-in Bluetooth connection and audio is processed through your DJ software.
If you would like to have only one set of headphones for everything, go for HF Wireless. Carry it in your bag day time, use it with your smart phone, wire it and DJ at night.
With its rotating and leatherette ear cups, included 4 ft. cable with 1/8 inch stereo plug, wide range 40 mm drivers and 60-20 kHz frequency response, HF Wireless headphones will be available in the 2nd quarter of 2015 with a price tag of $99.