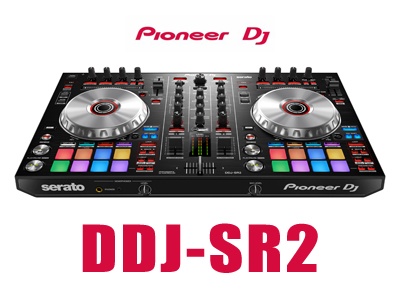 Pioneer DJ is releasing a new model, DDJ-SR2, which is an updated version of the original DDJ-SR, a very popular Serato DJ controller. 4 years later, the company has decided to add more features and functions to the older brother.
What is new with DDJ-SR2 ? Let me explain. First off, it has dedicated controls for some Serato DJ functions like Pitch 'n Time expansion pack with an included licence. It also is DVS ready with upgrade. Key Sync, Key Shift and Key reset are some of the Serato features and ready to use on this controller.
In terms of hardware, multicoloured performance pads, needle search, dual level meters and the ability to choose between USB and DC power source are some cool features you will get with DDJ-SR2. Unlike DDJ-SR, this one has XLR audio output (also a TRS booth and a secondary master out) for professional use and real club DJ setup.
Mixer section is stand-alone, thanks to DC power. You can connect external sources like turntables and still operate without a computer. DDJ-SR2 has enough audio inputs for this feature. It is lighter than DDJ-SR (8.1 lbs / 3.7 kg) and can easily be carried around for portable use.
I believe that this new addition to the Pioneer DJ family will be an excellent alternative to the existing mid-range controllers with a fairly reasonable price.
Pioneer DDJ-SR2 will be on shelves this month (September 2017) with a suggested retail price tag of $699. For more information, you can visit the official product page on Pioneer DJ website.