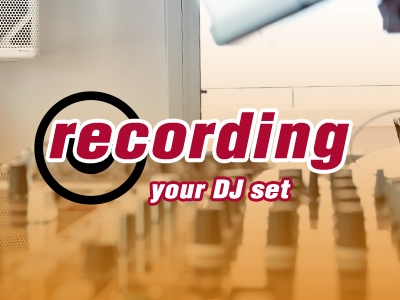 Most major DJ software brands have the recording feature built-in, like Serato and Virtual DJ. It means that you can record your DJ sets on your computer's hard drive while performing a gig. I strongly believe that every DJ should use this function and keep a copy of everything they play. I'm sure you got plenty of space on your hard disk, enough to squeeze a couple gigabyte sound file 🙂
Why am I recommending this ? Because there are advantages to your DJing career and self-improvement of your skills. Let me open up the subject a little bit.
Recording your DJ sets does not cost a dime and effort, in fact, helps you promote business, self criticize and advance yourself as a DJ. You can not really have the ability to judge what you do while DJing live. There are many factors making it almost impossible. Focusing on music, sometimes stress. But when you listen to it later on, you say " Oh, that's a good mix " or " Gee, did I really do that ? ". Let's see what you get out of keeping a copy of your DJ performance in hand.
Self – Judgement
This is crucial. As I mentioned before, there is almost no way you can judge your live performance real-time, except a few obvious moments of your set. When you listen to it later, as if you are the audience, all comes clear. How was the audio levels, transitions, did you pick the right music at the right time ? Did the beats drag while mixing into the other track ? By listening to every good and bad move you make, you improve your skills. " Let me not do it next time " or " This was good, let me stick with that ".
Promote
If it was a great DJ set, share it on social media, upload it to SoundCloud or Mixcloud, let friends and others listen to it. The best way of promoting your DJing is your mixes, not your business card. When people like it, they will also share and let others know. It's like a chain reaction. Make CDs and hand them over, let people play it in the car, at home and dance to it. Promoting yourself with your recordings is only limited to your imagination.
Great Backup Source
My previous article was about what happens if your laptop crashes while DJing. I told about backup options in such a DJing disaster situation. This is it ! Your already-recorded DJ set may be the ultimate backup source on a secondary drive. Just press the play button and let it roll until you fix the problem. Or it may also be a short DJ set option when you want to take a little break and leave the booth. Mix it and leave it as long as you want. See, your DJ set recordings will save you a lot 🙂
I have many of my previous live performance recordings on my digital storage and they did everything I told above in order to improve my DJing and realize what I did right or wrong. Highly recommended to every beginner DJ !
You May Also Read