Best DJ Controllers For Beginners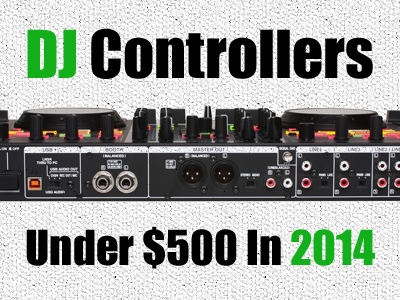 It's been little over a year since I published a post about the best digital DJ controllers you can buy for under $500 in 2013.
There were 9 controllers we selected for our readers last year, now there will be 10.
Some will still be the same and there will also be new additions to the list.
I'd like to remind you that our list is in no specific order, please browse thru all and pick the best one for your needs and interest.
I surely make recommendations about the best ones.
Below are the best 10 DJ controllers of 2014 under $500. Enjoy !
You May Also Like:
13 Best DJ Controllers Under $500 In 2015
Pioneer DDJ-SB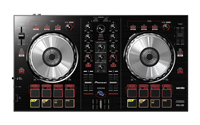 I definitely recommend this controller to all beginner and intermediate DJs. Pioneer quality for a very reasonable price.
It's basically the 2-channel version of the DDJ family. No external power though.
FX, performance pads and filter fade are some of its great features.

Traktor Kontrol S2 MK2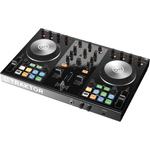 This is also one of the good controllers you can have.
S2 MK2 is the improved version of the old S2 with native plug and play compatibility with Traktor DJ for iPhone and iPad.
2 channels, 24 bit audio interface. Comes with Traktor Pro 2 software in the box.
It also charges your iPad while DJ'ing.

Numark Mixtrack Quad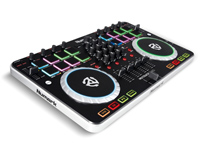 If you're shopping for a 4-channel controller, this is it. Numark quality and features.
In fact, all new generation Numark units are worth buying.
Mixtrack Quad has performance pads, loop, sample and hot cue modes and also comes with a $200 value Numark Remix Toolkit download.

Denon MC3000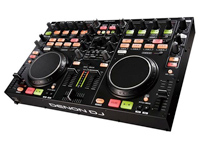 MC3000 is one of my top recommendations to users looking for material quality and durability.
Denon is known for making DJ equipment lasting for many years. Electronic circuits used in these units are also a big plus for owners.
MC3000 is a 2-channel controller with external power and built-in audio interface. It is shipped with Virtual DJ LE and optimized for Traktor software.

Numark Mixtrack Pro II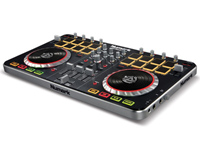 This is one of the most popular controllers for beginner DJs.
It natively supports Serato DJ software and equipped with built-in audio circuits.
Mixtrack Pro II is also eligible for the Remix Toolkit download.
Touch sensitive platters, drum pads for FX, loop and samples like most new generation controllers.

Reloop Terminal Mix 2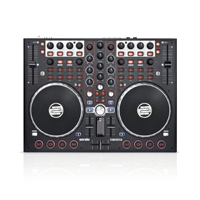 What puts this  unit to the front is its big jogwheels. I also like the LED vu-meters in the mixer section.
If you're shopping for good technical specs, Terminal Mix 2 would be your choice.
German brand has 3 separate audio outs (RCA, Booth and balanced), mic and Aux in, external power source and more.

Hercules DJ Console 4-MX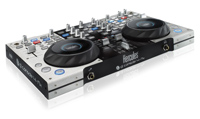 Priced reasonably for its build quality and features.
You can mix with 4 decks with this Hercules controller. Other functions are pretty satisfying.
Virtual DJ LE included, always upgradable to Pro version.

Pioneer DDJ-ERGO-V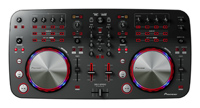 Not the latest, but still very popular as a high quality Pioneer product.
A direct RECORD button enables you to trigger recording of your live session.
This controller is bundled with Virtual DJ LE, comes with a free download of Serato DJ Intro, also supports Algoriddim's Dejay, Mixvibes Cross and Mixvibes Cross DJ software.

Numark Mixdeck Express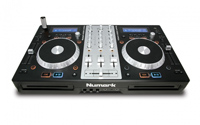 Well, this controller is a bit different being a 3-channel all-in-one unit. Means you can play from CDs, MP3 CDs, USB flash drives, external sources and control computer software as a MIDI controller.
Mixdeck Express comes with Serato DJ Intro, but compatible with most major software.
It is also external AC powered.

Numark iDJ Pro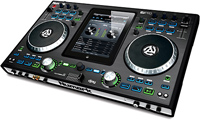 It is specially designed for your iPad and runs  Algiriddim's djay application.
So, if you don't intend to use your laptop and only your iPad, then go for this Numark controller.
Most pro features and options exist, but no booth out.