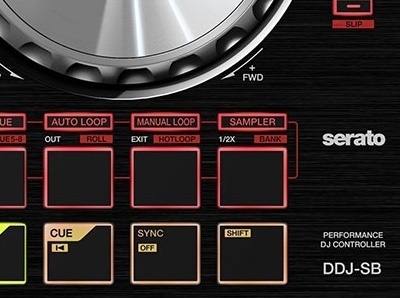 Pioneer DDJ-SB is one of the most affordable controllers of DDJ series manufactured by the DJ equipment giant. It is also an entry-level DJ control unit.
Considering its price and size, I'd say it's a perfect choice for beginner and hobbyist DJs who look for portability and less expense when buying a Pioneer DJ product.
DDJ-SB offers quite a number of features like FX, auto loop and performance pads that also exist on pro-grade controllers. Layout and design is at professional level as well.
Let's say you decided to buy and own Pioneer DDJ-SB. You're on a budget and can't afford a higher model at the moment.
On the other hand, you're just beginning to learn DJ'ing now and will pursue a career as an established professional DJ in the future.
You got this question in your mind, "Will it be enough for me six months down the road when I get a real gig and DJ in public ?". You're right. Will Pioneer DDJ-SB cater to your needs as a real DJ in the future ?
Let's take a look at all the major components of this controller. I will explain you if they are sufficient or not for advanced DJ'ing.
Mixer Section
DDJ-SB has a typical 2-channel mixer with a crossfader, 2 channel faders, 3-band EQ knobs just like any other decent DJ controller. What is missing here is the channel gain or trim knobs which are essential for pro DJs. Instead, they placed high pass – low pass filter knobs on both sides of the mixer.
Even though you can control the trim from your software screen with your mouse, it's not like having it physically on your controller. As being a beginner DJ controller, it also doesn't have any curve adjust controls for the crossfader and it's perfectly normal.
One more thing I'd like to have on my controller is the LED volume level meters and they don't exist on DDJ-SB.
So, can you DJ with this kind of mixer in the booth ? Yes, but as I said, some necessary functions are missing.
Decks
You get pretty decent amount of features on the deck section. Performance pads with rubberized "clicking" buttons, same transport controls as well, nicely built jog wheels just like the other pro-grade DDJ series (these are smaller though), vinyl/search-bend and key lock buttons.
There is also a SHIFT button on the transport section for secondary controls. Keep in mind, DDJ-SB is designed for Serato DJ Intro which is the limited version and you need to upgrade to full version in order to be able to use these second layer functions. I recently posted an article about what is missing in Serato DJ Intro.
Performance pads on Pioneer DDJ-SB enables you to control hot cues, sampler, auto and manual looping. These are great for professional DJ'ing.
There are also FX controls on top of the deck. They are limited but will do the job.
One down side of the deck section is the pitch slider. It's not full size which is 100 mm. This may cause less sensitivity on adjusting the pitch.
In general, player decks on DDJ-SB may very well be enough for you to play a real DJ gig in public.
Library Browse Section
It has all the buttons and knobs to browse your library using your DJ controller. Rotating browse knob, back button to move between folder and file mode, load buttons for both decks. They are all you need.
Audio Connections
This is where you may have difficulties as a professional DJ. DDJ-SB has extremely limited audio input and output ports.
There is only one RCA (unbalanced) main output in the back of the unit. You don't get line inputs or a booth output. These are really essential components of a DJ controller sound card when using it in a DJ booth.
Let me explain why. if you bring your own gear to a public place to DJ, you either connect it directly to the sound system or do it through the main mixer in the DJ booth.
A direct connection to the speakers or the amplifier will limit your ability to control the sound and monitoring music through speakers in the booth.
If there is a second DJ mixer, then you can use its controls. In this case, DDJ-SB may not be suitable for you.
On the other hand, there is no external audio input you can use for a possible backup source. If your software or laptop fails, DDJ-SB turns off too. This is something you would never wanna experience.
Most pro-level DJ controllers have a standalone mixer section and powered externally via AC or an adaptor. The mixer never goes down and the audio is processed on the device, not the software. DDJ-SB does not have this function.
Final verdict for the audio connections on DDJ-SB is that this controller is not an ideal choice for professional DJ'ing.
Conclusion
As I mentioned at the beginning, Pioneer DDJ-SB is a great beginner DJ controller with its price and specs. I'm sure it would satisfy you during your learning phase in DJ'ing.
Most features on it will be quite enough for any public gig except the audio controls and connections. At that point, it would be your decision to buy it or not.