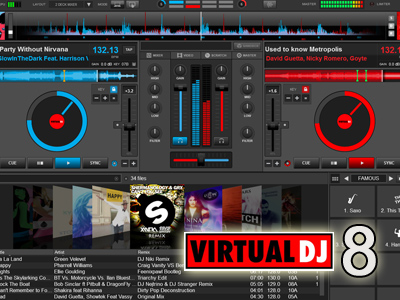 I recently wrote about what is missing in Serato DJ Intro or what additional features Serato DJ has, in other words.
Now, it's time for Virtual DJ.
I'm sure most of you guys know that Virtual DJ is one of the most popular DJ software programs in the market today. According to the company, it got more than 150 million downloads.
They offer 5 different versions including the free edition, subscription and the fully operational one.
Let me summarize each version with brief descriptions.
Home Free Version
If you do not DJ professionally and don't use a DJ controller, then Virtual DJ is free for you. This home addition is fully functional with the exception of MIDI control.
Keep in mind that some advertisement might be displayed on-screen if you use this free version of the software.
You can download it by visiting their official website.
Plus "Controller" Version
Again, if you don't have any commercial intentions of using the software, but own a DJ controller and want to use it, then this edition of Virtual DJ is for you.
"Plus controller version" price will cost you between $49 and $199 depending on the make and model of the device.
You can visit the pricing page to find out the price for your controller right under the title "Advanced Home Users".
Pro "Subscriber" Version
This edition of the software enables you to buy a professional licence based on monthly subscription.
If you're not sure how long you want to use Virtual DJ, go for it and pay only for the time frame you use the software. The cost is $19 a month.
You get free updates, access to unlimited controllers, use it professionally and make money.
Pro "Infinity" Version
This is the full professional licence for Virtual DJ. No restrictions at all. The cost is $299.
Please note that your licence will be associated to your email and user account, thus can't be transferred to anybody.
Now, let's take a look at what is missing in the LE or Lite version of Virtual DJ compared to the pro editions.
Features You Don't Get With Virtual DJ LE
I had a conversation with one of the company officials recently and he explained me what is not included in the LE version which is bundled with most DJ controllers in the box.
With Virtual DJ LE, you can not:
Customize mappings
Change skins
Load external effects or samples
Create playlists
Use automix function
Fully manage browser and library
Display custom logo on full-screen video
Broadcast to radio server
Use unsupported hardware (only your controller)
Use it professionally
Of course, there is no additional cost for this version since it's included in your hardware purchase.
He also told me that it would not be fair to compare an older LE edition of the software (7 and previous) with the latest 8 version. The company totally redesigned and rewrote the code for Virtual DJ 8.
So, if you're interested in upgrading Virtual DJ LE, you have options. You can either download the home edition and try it without your controller or subscribe monthly for $19 and use it professionally for a full month to make a decision.